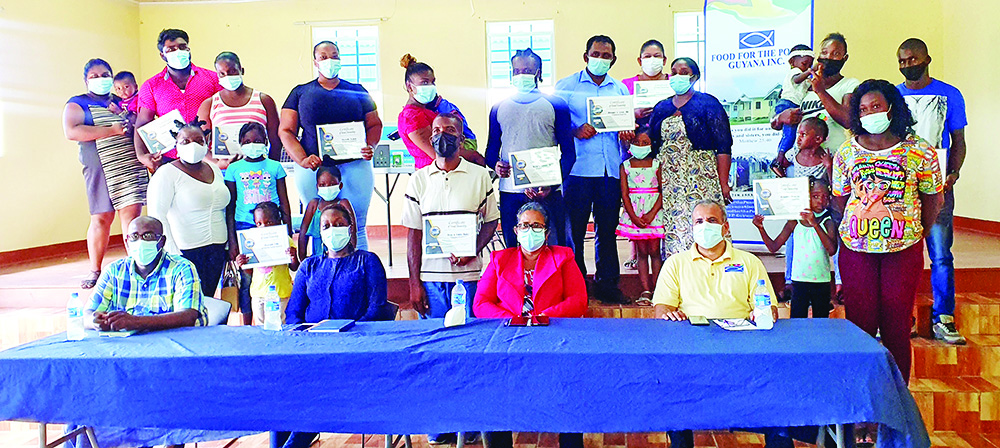 Ten families in Region Two (Pomeroon-Supenaam) were all smiles on Tuesday when they collected the keys to their brand-new homes built by Food for the Poor (FFTP).
The beneficiaries were six families of Queenstown village and four families of Onderneeming. The houses, which were partially furnished, has two bedrooms, a bathroom, a kitchen, dining and living room areas.
At a simple handing over ceremony on Tuesday, Senior Project Manager of the Non-Governmental Organisation (NGO), Andrea Benjamin related that the organisation continues to assist families who are in need. She noted that beneficiaries were living in other people's homes. She stated that the aim of the organisation is to make families happier and more comfortable in a better home that is well furnished. The houses that were handed over are well equipped with household items and solar panels to generate electricity.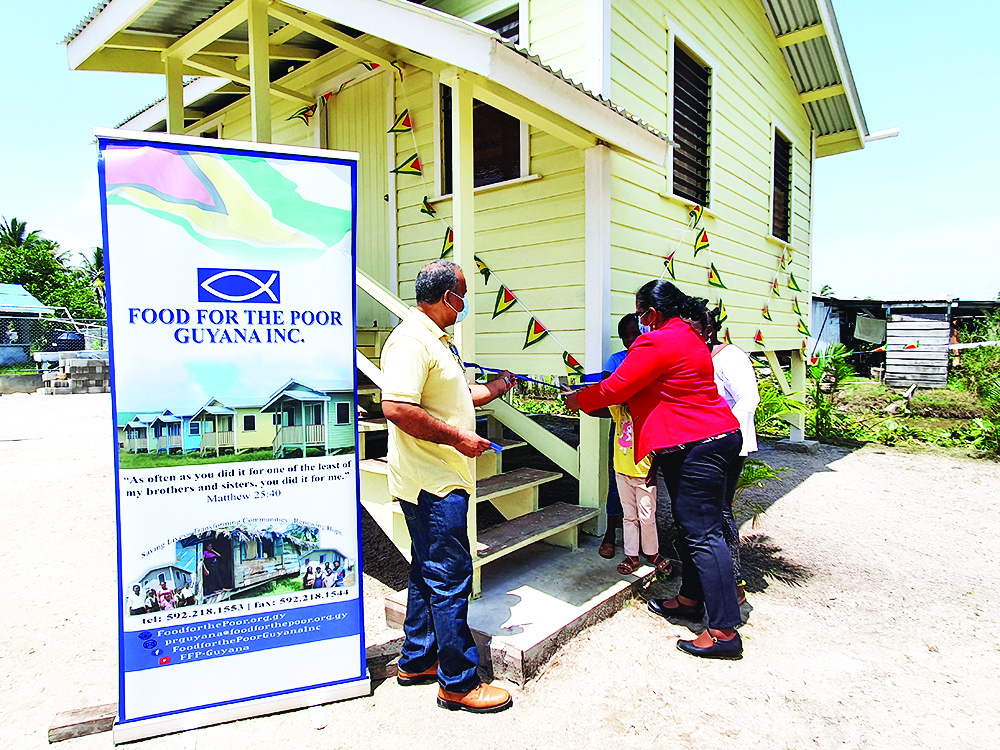 Benjamin explained that FFTP built several houses for families along the Essequibo Coast including Amerindian villages and other communities throughout the region to make families more comfortable and happier.
Speaking to the residents of Queenstown was the Chief Executive Officer (CEO) of the NGO, Kent Vincent, who related that FFTP is always at the front line to assist less fortunate persons around Guyana. He also stated that the organisation will assist families with proper shelter and make them more comfortable in a better home. He added that the aim of the organisation is to see children develop, grow and be educated because education brings them out of poverty. As a result, it will help to contribute to society and help to build the region.
"I am thankful for this collaboration of support of housing to our communities and as you know the Food for the Poor and the regional administration is passionate about reaching out to our less fortunate… Moving from one stage to the next is not limited because you are not that fortunate …you can reform your lives in such a way in order to get that right type of transformation you need. I have a component in me for humanitarian service and I would love to see lives improve. I would like to extend a big thank you to the FFTP team for blessing families with their desire for a home and making them feel more comfortable and happier," Regional Chairperson Vilma De Silva said.
One of the beneficiaries, Kenisha Walcott of Queenstown village, was elated to have her new home and expressed gratitude to FFTP Guyana Inc. "About two years ago, I was living at my grandfather's residence along with my daughter, but my life wasn't easy at all…thinking about my daughter and not wanting her to go through the same life I've been through. I recall everything that happened to me in the past… so I decide to pray and after I've got a call from FFTP then the project manager comes to find the location for the house and so on…I couldn't believe I was getting a home…I'm so happy and thankful for FFTP for filing my application and giving me a well-furnished mansion that I can turn my own keys in."
Also expressing gratitude was the President of Queenstown Development Association, Fitzroy Fredericks. He related that he is happy for the 10 families that received their homes. Other beneficiaries echoed similar sentiments, praising FFTP Guyana for their timely intervention.