Food For the Poor Guyana Inc (FFTP) is providing 1500 lunches for children attending schools in Region Six. The project, which was launched on Thursday, should soon see that number rising to 2500 meals weekly.
Fifty children from six schools in the region are currently benefiting from the nutritional enhancement programme.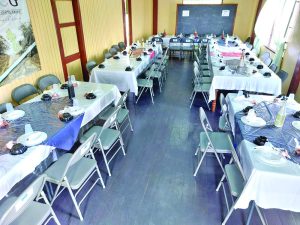 The initiative has been sponsored by FFTP through its collaborating partners St Francis Community Development (SFCD) and Department of Education Region Six (East Berbice-Corentyne).
The implementing partners are FACT Group of Corriverton, Upper Corentyne; Eversham Community Developers; Shining Star Community Developers of Limlair, Mibicuri Community Developers of the Black Bush Polder; St Mark's Mother's Union of Alness Village; Albion Chapel Life and Skills Training Center at Fyrish Village, St Francis Community Developers at Port Mourant.
Speaking at Thursday's launch which took place at Fyrish, President of SFCD Alex Foster explained that apart from the six schools, children from New Amsterdam, Angoy's Avenue, East Canje and Rose Hall Town are also expected to be included in the programme, making a total of 500 school children.
Lunch is being provided for them five days per week.
Senior Project Manager of FFTP, Andrea Benjamin explained that the programme seeks to address food insecurity. She pointed out that for some of the centres where the children are being provided with their meals, kitchens and dining areas had to be constructed.
She said the nutritional centres are geared to promote education.
"These are not centres just developed to feed children, these are centres that are developed to promote education; to encourage attendance and to encourage academic performance," she said.
Many children are unable to attend school because of the food insecurity the family face.
"So, this programme is geared in ensuring that when children come to school there is a meal that they can get while they are in school. Oftentimes we find that children will leave in the morning without any breakfast and then they are in school… we know that hunger is a distraction. This is why some parents keep their children at home."
Children's attendance will be recorded each day which will be compared with attendance of the previous school term to see the changes that have taken place. A comparison will also be made with their grades.
"Our aim at Food For The Poor is to promote and develop vulnerable people and education is one of the important factors in development," Benjamin explained.
Region Six Chairman David Armogan, who is also the Chairman of the Board of Industrial Training (BIT), noted that FFTP has been making a big impact countrywide and in places where it is most needed.
"There is need for students to be provided with proper meals and research has shown that students who do not have proper meals, either they perform very badly in school or alternatively they do not come to school at all. When we moved around recently to find out why some parents have not been sending their children to school after we had a fair amount of absenteeism during the last Grade Six examination, some parents complains that they were not able to meet the need of their children to go to school and so we recognised that some of the parents may not have been able to provide meals for their children," Armogan revealed.
He pointed out that the Education Ministry has been providing breakfast for children attending some nursery schools in the region as he welcomed the initiative by FFTP to provide lunches for children attending secondary school.
"The Minister of Education had been working to involve some primary schools in the breakfast programme. Primary school is the base for a child's education. If the child doesn't have a good foundation, it is very hard for them to catch up."
Chief Executive Officer of FFTP Guyana Inc, Kent Vincent saw the need to assist with the nutritional enhancement programme. He pointed out that this is just one of several projects being implemented by FFTP as the organisation seeks to implement more programmes to benefit young people.
"We want to see not only feeding programmes in this region, we are asking people who may have ideas for community development projects that are sustainable that we can partner with to be able to bring development to communities all across Guyana."
He is encouraging large local companies to come on board. (G4)