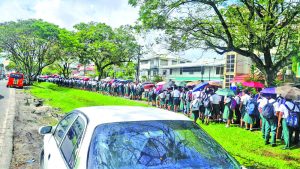 The Guyana Fire Service (GFS) has reported responding on Wednesday to a report received at 09:09h alleging that a bomb had been planted at the Bishops' High School on Carmichael St, Georgetown.
According to the GFS, shortly after the call was received, the building was evacuated and firefighters were actively on the ground investigating the report with the bomb squad.
Guyana Times has been informed that a teacher at the Bishops' High School had reportedly received a call that a bomb was planted in the school, and she immediately informed her superiors, who called in the GFS. A full check was reportedly made around the school, and it was reported that classes would resume at the Bishops' High School on Thursday.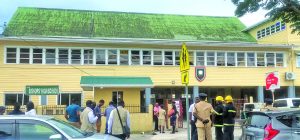 This call to the Bishops' High School had come mere hours after the GFS had received a false report of a fire at the school on Tuesday evening at about 22:00h.
The last bomb threat that was made on an educational facility was in February 2019 at the University of Guyana (UG) Turkeyen Campus. A number of threats were sent to several online news outlets, which were promptly reported to the Police. This had caused UG to be placed on lock-down owing to the bomb scare.
In the threat message, the alleged sender, 'Jack Ryan', had stated: "I have placed 20 bombs across the University of Guyana campus, which are hidden from plain sight. Attached to this bomb is a timer which can be remotely activated/deactivated".
It was reported that the sender had also uploaded an image of the alleged handmade explosive devices, and had also stated that the timer was set for eight hours before detonation.
"The bombs will be activated at exactly 15:00h unless my demands are met," 'Ryan' had continued. In a subsequent message, he related that students must leave the campus, after which he would make his demands.
However, the Police conducted an investigation and no explosives were found on the campus. A UG student was later charged for the threats. (G9)