Unilateral transfers
…as 111 foreign observers arrive in Guyana
In the wake of several reports that persons were transferred from their voting district without requesting such, the Guyana Elections Commission (GECOM) Secretariat has committed to examining these reports.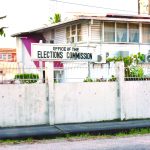 This was revealed by GECOM Commissioner Sase Gunraj at the conclusion of Tuesday's statutory meeting. Gunraj noted that he himself has been the recipient of reports on the issue, though he declined to get into too much detail since they are of an anecdotal nature.
He explained that the matter was raised at the statutory meeting and an undertaking was given by Chief Elections Officer Keith Lowenfield to look into the issue and give a report to the Commission.
"Some issues were raised in relation to that and the CEO has promised to give a report on that in short order… in some instances, their places of polls have been changed. If your place of poll has changed, there might be a reason for that change."
"The other issue is persons who have more or less have been displaced. I know my colleague (fellow Opposition-nominated Commissioner Bibi Shadick) has raised this issue with the CEO and he is looking into that," Gunraj said.
Reports had previously reached this publication that in some cases, persons who never requested an address change have suddenly found that they have been transferred to another location on the Official List of Electors (OLE).
At least one regional official from Region Eight, when contacted, related that individuals have complained of this occurring. She related that one individual had his information current on the Preliminary and Revised List of Electors, but upon checking the OLE his name had been transferred to South Ruimveldt.
In an invited comment, PPP Chief Scrutineer Zulficar Mustapha had noted that a few reports have reached the party of persons having their particulars changed. He noted that further checks on the issue will be made.
There is a total of 661,028 eligible voters on the OLE, which was completed late last month. In 2015, when GECOM had published the OLE ahead of elections that year, the total number of voters was 570,787. The increase has been explained as a feature of continuous registration.
111 foreign observers
Some 111 observers are in Guyana for the upcoming General and Regional Elections. This figure was revealed in a notice published by the Guyana Elections Commission in the daily newspapers.
The elections are expected to be watched intently, with a number of international observers and technical advisors in the country to oversee the process. For instance, it is the first time that the European Union will be deploying a fully-fledged team of observers on the ground for Guyana's elections.
The Carter Center is also involved, with it being announced that former Prime Minister of Senegal, Aminata Touré and Chairperson of The Carter Center Board of Trustees, Jason J Carter (the grandson of former US President Jimmy Carter) will co-lead the Carter Center's international election observation mission in Guyana.
Other overseas-based observers expected to participate in overseeing the election include teams from the Organization of American States (OAS), as well as the Caribbean Community (Caricom).
GECOM is also getting assistance from a number of technical advisors who were provided by other countries and international organisations. Canada, for instance, is providing GECOM with Jean-Pierre Kingsley, a Canadian elections expert.
The Commonwealth is also providing the services of its senior technical advisor, Dr Afari Gyan, who arrived in Guyana last month. In addition, Dr Syed Nasim Zaidi, an elections advisor from India, has also joined the team.