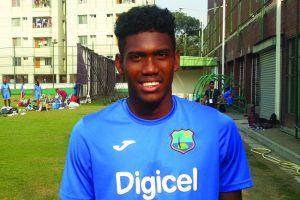 Full name: Keemo Mandela Angus Paul
Born: February 21, 1998
Current age: 19 years old
Batting style: Right-hand bat
Bowling style: Right-arm fast-medium
The West Indies under-19 wining Vice Captain has only gotten better and better at what he does; playing the gentlemen's game to his best.
The boy from Saxacalli, a village located on the West Bank of the Essequibo River, some 25 miles South of Parika, East Bank Essequibo, got into the squad as a replacement youth player for Shimron Hetmyer.
Paul, who can practically play any role on the field, told Guyana Times Sport that he is ecstatic over being in the squad.
"I'm looking forward to the opportunity since I see it as a challenge and I will use it to help me gain confidence".
He made his List A debut in January 2015 playing for the West Indies Under-19s in Tobago. Since then, he grew from strength to strength, making an impressionable debut season for the Guyana Jaguars.
In fact, one of his highlights was having a match haul of 9 for 64 against the Windward Islands at Providence, East Bank Demerara, to help the three-peat in titles for his team.
The teenager who spends most of his off-time with his family said if he was not a cricketer, he would become a professional footballer. A master at frying an egg, Paul credits his success to support from family and being a hard worker.
"Guyana is your home team I just want to urge everyone to come out, support give a 110 per cent, in Guyana the crowd is always fantastic and tremendous I just think again this year it will be and I know the crowd will be behind," Paul made an appeal to fans to come out to support the local team.
The Warriors have reached three of the four finals to date but have not been able to walk away with the silverware. However, the young cricketer is known to be a 'lucky charm' after helping Guyana dominate youth cricket from 2014 to 2016, added to the icing on the cake with a Youth World Cup win.