President of Ghana, Nana Addo Dankwa Akufo-Addo will be conferred with Guyana's highest national award, the Order of Excellence – which is reserved for the most distinguished of persons who made sterling contributions to the country.
The Ghanaian President arrived in Guyana at 23:00h last night for his very first state visit.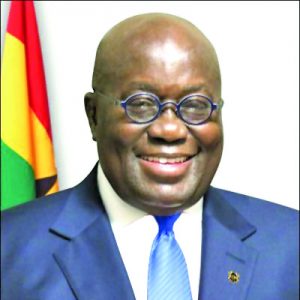 He was accompanied by a 43-member delegation, who were greeted by Guyana's President David Granger and most of the members of his Cabinet at the Cheddi Jagan International Airport (CJIA).
A 21-gun salute and the unfurling of the vibrant Ghanaian flag marked the arrival of the high-level team who will today be visiting various places and meeting a host of individuals, including Opposition Leader Bharrat Jagdeo.
President Akufo-Addo will first participate in wreath-laying ceremonies at the Company Path Gardens and then at Square of the Revolution. He will then be escorted to State House where he will interact with President Granger in a discussion slated to last an hour.
Thereafter, he will be escorted to the Umana Yana for a state luncheon, where the Order of Excellence will be conferred.
Afterwards, President Akufo-Addo will meet the Opposition Leader for a scheduled 15 minutes.
He will then continue his tour of Guyana, first at the Demerara Distillers Limited (DDL) and then at Banks DIH Limited – the country's two leading beverage manufacturing companies.
Later in the day, the Ghanaian President is slated to interact with the Ghana diaspora in Guyana and representatives from the country's African Group Organisations. The next day, the President and his delegation will depart Guyana.
The state visit was announced by President David Granger two weeks ago when he accredited the new Ghanaian High Commissioner to Guyana. The Guyanese Head of State had disclosed that he met President Akufo-Addo twice – first, at the Commonwealth Heads of Government Conference last year and again this year, in Cuba, where the African Leader accepted an invitation to visit Georgetown.
The visit is aimed at "deepening and strengthening the cordial relationship" the two countries have built over the past 40 years.
President Granger had previously noted that his Ghanaian counterpart's visit will result in practical measures aimed at enhancing relations and cooperation between our two states, particularly in the fields of agriculture, culture, energy, environment, investment, petroleum production, Private Sector cooperation, tourism and transportation.
This state visit comes on the heels of a recent visit by a large Ghanaian delegation two weeks ago to engage local stakeholders on areas of mutual interest in the oil and gas sector, among others.
The more than 15-member team, led by Ghana's Energy Minister and Deputy Minister (Petroleum) Dr Mohammed Amin Adam, had met with a number of Government Ministers and officials including those from the Department of Energy.
Ghana investors are also said to be interested in buying Guyana's Rose Hall Sugar Estate.
Additionally, the Governments of Guyana and Ghana have already inked a commitment to work to develop the air bridge between the two countries. This was done last year at a high-level ICAO meeting in Guyana.
Although Guyana officially established diplomatic relations with Ghana on May 14, 1979, Guyana's Independence movement was greatly influenced by Pan-Africanist and first President of Ghana, Kwame Nkrumah. During the celebration of Ghana's Independence in March 1957, Guyana's political leaders, Dr Cheddi Jagan and Forbes Burnham travelled to the West African State to attend the festivities. Throughout their years of leadership, both Presidents Jagan and Burnham maintained good relations with Ghana.
Guyana has long shared common interests with those of the Republic of Ghana. In fact, President Granger and many Guyanese historians have documented the contributions of Africans in Guyana, highlighting specifically the contributions of the "Maroon people". This African group, who came to Guyana through the Atlantic slave trade, originated in West Africa as a part of the group of Asante people who lived in a region of what is now modern-day Ghana.
As the diplomatic relationship between Guyana and Ghana continues to flourish, so does Ghana's cultural stamp on Guyana. Earlier this year, on March 3, Guyana celebrated its 9th annual Ghana Day, organised by the Ghana Day Organisation. The Ghana Day festivities this year focused on the resuscitation of African culture among African-Guyanese.