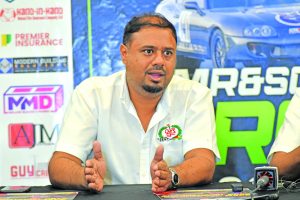 Vice-President of the Guyana Motor Racing & Sports Club (GMR&SC), Shairaz Roshandin, in an exclusive interview with <<Guyana Times Sport>> expressed confidence that the season-opening circuit Meet scheduled for today, March 19, will be a success.
Roshandin, who will be an active participant in the day's racing, revealed that his predication is based purely on the excitement and eagerness being expressed by all the competitors, while early feedback from fans on all the social media platforms has mirrored sentiments uttered by drivers and riders slated to compete.
Roshandin said the recently resurfaced track, which is 1.6 miles long, is one of the main features creating the buzz among competitors, while the incentives to be derived for outstanding performances have added to the anticipated excitement expected on race day.
"Competitors have said that they can't wait to get another chance to compete on the new surface, which many agreed is a joy to drive on; while the smoothness allows for better handling and high speed at the corners," Roshandin stated.
Since being resurfaced, the track was used last November for the traditional biggest Meet of the racing calendar, and most competitors have been champing at the bit to get another opportunity to tame what has been described as a fast track and an enjoyable one to race on.
Roshandin, who can be considered a veteran competitor in the Group 2 category, was unwilling to give any prediction of his own chances of doing well during the interview, but assured that every race is expected to provide keen rivalry.
"We are going to see the reintroduction of the 'Rookies' Class, which caters for new entrants to the sport, and this category historically creates a lot of buzz and excitement for the fans," Roshandin said.
He revealed that Team CAMS out of North America will be sending a strong contingent of drivers, and they have also indicated that their team would be a strong one aiming for huge successes against the locals.
Some of the best local competitors are also confirmed to participate, among them being Mark Vieira, Andrew King, the father and son duo of Kevin and Kristian Jeffrey, Danny Persaud, Steffon Jeffrey and Chet Singh, while the Superbike category could provide nerve-tingling rivalry as well.
Over twenty (20) races are slated for the day, and the organisers, in their planning, have pushed back the starting time to 11:00hrs to cater for competitors and fans who might be affected by the expected traffic congestion heading to the track.
"We have had complaints from both competitors and fans, who've said that they were forced to miss a few events due to the traffic situation which usually occurs; and in order to correct this, we made the decision to start a little later, to accommodate everyone," Roshandin assured.
According to him, the deferred start will in no way affect the day's proceedings, since in some cases two categories will be run simultaneously, with the winners parading two chequered flags, while race officials will ensure that the scheduled start of races is adhered to.
Quizzed on the level of support being offered by the business community, Roshandin said it has been steady, and he expressed optimism that, in the few weeks left, it would increase significantly.
He cited the Group 1 and 2 categories to provide riveting excitement, while the other groups are expected to provide similar rivalry.
Some of the sponsors on board are: Secure Innovations & Concepts Inc., E-Net, Tropical Shipping, Banks DIH, Prem's Electrical, Junior Sammy, Vitality/Ramchand Wreckers, B.M Soat Auto Sales, and AJM, among others.
Meanwhile, an entrance fee of $2,000 and $1,000 will be charged for adults and children respectively, while V.I.P will be $20,000 and $10,000 for the same categories of attendees.