Commissioner of Police (ag) Clifton Hicken along with other members of the Guyana Police Force (GPF), visited the Yarrowkabra (Circuit Ville) community on the Soesdyke-Linden Highway on Friday last.
The team, which was led by Hicken, was warmly welcomed by scores of residents, many of whom were eagerly looking forward to highlighting their concerns and issues affecting their community.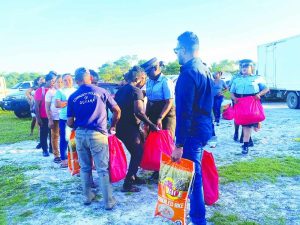 Hicken took the opportunity to highlight the importance of community policing in the ongoing efforts to curb crime, pointing out that this is an essential bridge between the community and the Police.
While there, he interacted with residents and children from the area. Hicken shared that it is hard for strangers to walk into their community and feel comfortable carrying out robberies unless persons within those same communities are facilitating them.
As such, he pointed out that the resuscitation and enlisting of the Community Policing Group, Neighbourhood Policing Group, and Scout Group is important in assisting the Police to combat the use of drugs and mitigate crime and robberies.
Hicken and his team listened attentively to the residents and addressed the numerous concerns raised. He even related to residents that a vehicle was allocated to aid in policing the area. After engaging with community members, hampers were distributed to them by Commissioner Hicken and his team. The children were treated to ice cream.
This initiative is ongoing through committed effort led by Hicken, which is in keeping with the Force's five-point strategic plan, one of which focuses heavily on building partnerships with communities and civil society to create safer environments countrywide.
Residents who attended the meeting were outspoken in their praise of the GPF's dedication to fighting crime and fostering better ties with the community. They lauded Commissioner Hicken and his team for encouraging and fostering this partnership approach between the Police and the community.
Also present at Friday's outreach were Superintendent Ravindra Stanley, Deputy Superintendent Clifton Davis, and other Police ranks.