Exercise planners from more than 13 friendly nations have gathered for the Mid Planning Conference for Exercise Tradewinds 2023 (TW23) at the Ramada Hotel, Providence, East Bank Demerara (EBD).
This is the 37th year of the exercise, which was last held in Guyana in 2021. The focus of TW23 will be on countering regional threats executed in a Field Training Exercise (FTX) and Command Post Exercise (CPX). Guyana will host the exercise from July 14 to 18, this year.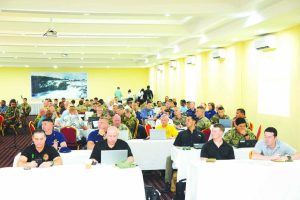 The initiative is expected to concentrate on countering transnational criminal organisations and countering violent extremist organisations as a way to improve Caribbean Community Standard Operating Procedures and boost regional cooperation, stability, and response efficacy to security threats.
Back in July 2022, representatives were given a tour of the Police Sports Club, Felix Austin Training Centre, and the Officers' Training Centre.
In June 2021, the curtains came down on Exercise Tradewinds 2021 which was hosted in Guyana and saw 13 other partner nations participating in the exercise not only to highlight the common concern for regional security, but also a reassurance of their unwavering commitment towards peace and stability in the hemisphere.
Ranks from the GDF as well as the Guyana Police Force were trained in various military skills, including close-quarters combat. They were also trained in marksmanship; emergency medical evacuation; search, rescue and recovery responses, and mechanical and engineering repairs for both air and water transportation, among other areas.
Along with Guyana and the USA, ranks from the United Kingdom, Canada, France, the Netherlands, Brazil, Bahamas, Barbados, Belize, Bermuda, Dominican Republic, Jamaica, and Trinidad and Tobago participated.