Guyana's representative to the Miss the Miss Caribbean Cultural Queen Pageant 20-year-old Arian Dahlia Richmond was adjudged first runner-up when the pageant was hosted on Wednesday evening in St. Kitts and Nevis.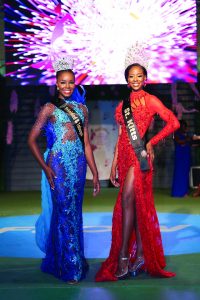 She would have competed with 12 other delegates from other Caribbean Countries but at the end of the night, Miss Miss St. Kitts, Olivia Walters and Miss Trinidad & Tobago, Britney Smith were both crowned Miss Caribbean Culture Queens following a tie.
The pageant is one of the main attracts during the Island's Culturama Celebration.
The Guyanese beauty was born as a "cook-up" of cultures to Guyanese parents. At age 19, she pursued her first pageant Miss Bartica 2018.
With much enthusiasm, open mindedness, she competed fiercely and emerged as Miss Bartica Regatta 2018.
During her reign as Miss Bartica, Richmond launched "The Bartica's Youth Development Camp" which aimed at teaching students Spanish; skills in art, craft and design; Self-care and hygiene; and other skills.
The camp accommodated 62 students from the Bartica community, Venezuelan migrants and refugees along with volunteers to make the project effective. The main aim of the camp was to build self-esteem, good sportsmanship, confidence and love for self.
However, she said that it was a great opportunity to have represented Guyana and it do so with pride and dignity.
During the pageant, she promoted Guyana as the world's number one eco destination and currently the world's expected fastest growing economy.
She plans to use this opportunity to continue her message and to fulfil the true purpose of pageantry on a more regional platform.