A "silent pandemic" masked by an alarming suicide rate in Guyana is now at the forefront of issues to be addressed, with a new approach to mental health and wellness among the population.
At the Guyana Mental Health and Wellbeing Conference on Monday, University of Guyana Vice Chancellor, Professor Paloma Mohamed-Martin sought to point out that the COVID-19 pandemic gave rise to worsened stress levels among students and faculty staffers.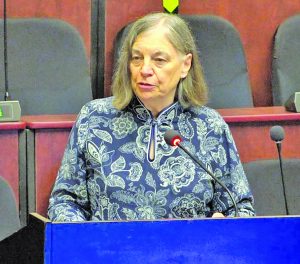 "The COVID context has created a tremendous amount of stress, of course alienation is one of those big things in our population of students but also in the faculty and most importantly, in our pensioners, that is the faculty who are no longer working and at home. This is a major issue," said the VC.
According to her, this resulted in the need to bolster their approach to mental health strategies and counselling, as well as learning challenges which students may encounter.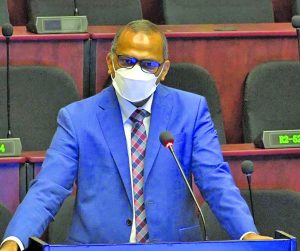 "The University has now been very focused on mental health in our own university community. We are looking at anxiety and depression in our students and we are looking at other types of challenges that students might have and focus very significantly on things like learning challenges, autism, learning disabilities and so on."
UG has created, in collaboration with the Human Services and Education Ministries and UNICEF, an inclusion policy which will guide this support for students who are suffering from both learning and mental health challenges.
The conference was organised as part of a comprehensive plan to identify the gaps which contribute to increased suicide and mental health issues in Guyana. It is intended to continue as an annual event, in tracking the progress made to end the "plague".
Alarming statistics
Data shows that Guyana still has the highest suicide rate in the Caribbean Community, followed by Suriname. Globally, it is the second highest in the world. Currently, the figure stands at 58.2 per 100,000 people, and has been on a consistent increase throughout recent years. In addition, for every person that commits suicide, there are 20 attempted cases.
Professor at Columbia University, Christina Hoven said as the world prepares to exit the novel coronavirus pandemic, Guyana still has another in the form of suicide which it must seek to eliminate.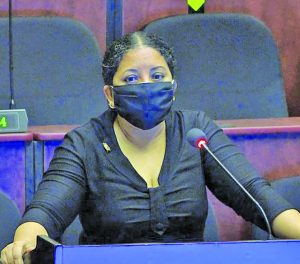 "The pandemic is not over and it will continue to take lives and sicken people. However, the good news is that the grip of the pandemic has been loosened. Leadership, education, awareness and changed personal behaviour as well as a joint commitment has put in our sight, the end of the COVID-19 pandemic. Suicide on the other hand, is Guyana's ongoing private pandemic, a private plague placing this beautiful country at the top of the list of countries around the world for its high rate of suicide," she outlined.
However, she noted that in some cases, the numbers are much higher but are being classified under labels which distort the actual magnitude of suicide-related deaths.
"Transport injuries, car accidents, unintended injuries, self-harm and violence; that's how it gets classified in the emergency room when the body comes in from a car accident or from a fall. It gets classified this way, not as a suicide. But you can be sure, many of those cases are a suicide. So again, the numbers are worse than we know."
Across the country, the figures are ununiform, meaning socioeconomic and cultural deprivation are some factors which increase risks of such occurrence. She reminded that every case is different and speaks to the need for a multifaceted approach.
Hoven added, "We can do a lot of things. We can do it from a multifaceted perspective because suicide is multifaceted. Everyone that kills themself is different and they have a range of activities and attitudes at the least to bring them to that point. We can intersect those attitudes and beliefs if we think about it and try."
New study
In the coming future, the Guyana Wellbeing Project will be conducted in collaboration with several partners. It is divided into three segments, the first of which is a national representative community cohort using 5000 people across the country, aged 15 and above. The second part is a clinical attempter's sample, where every person that visits a crisis clinic will be assessed.
"The assessment of that group will be almost identical to the national representative sample so we can begin to tease out who is coming into these clinics and how they compare to the community sample… If we don't start the process to attack the plague of suicide in Guyana, we're not going to get there. We have to start," the professor divulged.
The third step involves a survivors' sample, interviewing persons in close connection with suicide victims. Such actions were decided with the intention of going beyond traditional research and deeply explore the reason for Guyana's current status.
On the cards is an injury and trauma training programme in collaboration with UG. Together, the two initiatives form the Guyana Wellbeing Project.
Legislation
Health Minister, Dr Frank Anthony reminded that Government has been pursuing a Draft Suicide Prevention Bill, which they are hoping to add to the parliamentary agenda.
"If we do this year, we'll be able to pass it and change those old things that have been there that has not really created an enabling environment, what we need to be to prevent suicide in Guyana…With persons championing for this, I'm sure we'll get it changed," Dr Anthony asserted.
Laws dealing with mental health, he noted, have been "problematic" due to outdated approaches that cannot work to curb current issues. Since 2011, a draft document was crafted but later shelved, while another was started in 2017. Recently, both pieces of legislation have been examined to draw the strengths and formulate a comprehensive draft bill. This will be circulated for scrutiny.
"Some of the terminology that are being used are not in keeping with what we'd like to see in a modern mental health architecture and these things have been changed. Again, there have been attempts for us to develop special laws relating to mental health in a good way, not to stigmatise anyone."
The Minister added, "From the side of Government, we are very much interested in creating that conducive, modern, mental health framework so that our practitioners, clinicians, social workers would be able to work with this new framework."
The decriminalisation of suicide is also a key move being touted by the current Administration. (G12)