As Guyana prepares to welcome a new sector in the extractive industry, several steps are being made to ensure that it meets international standards and transparency remains a top priority. As such, efforts are being made to make Guyana Extractive Industries Transparency Initiative (EITI)-compliant.
While this process had started in 2010 under the People's Progressive Party/Civic (PPP/C) Government and continued with the A Partnership for National Unity/Alliance For Change (APNU/AFC) Government, Guyana has still not managed to make the necessary submissions to seek certification.
During its last round of countrywide outreaches ahead of its application submission, the Guyana Extractive Industries Transparency Initiative (GYEITI) hosted a public forum in Georgetown on Thursday at the Marian Academy to discuss the importance of having this initiative implemented, especially in light of the fact that Guyana was expected to begin oil production in 2020.
In addressing the sizeable audience, GYEITI National Coordinator, Dr Rudy Jadoopat said that the organisation was made up of a multi-stakeholder group, which was responsible for putting together the terms of reference and the confidentiality agreement for the Initiative, which was adopted in April this year. This step will allow for data on the extractive industry to be made accessible to those same members.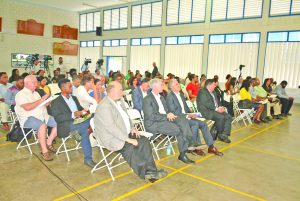 With assistance from neighbouring Trinidad and Tobago, the GYEITI held capacity-building symposiums earlier this year, and in June, a draft work plan was put together and later endorsed by the group. The GYEITI official steering committee includes representatives from the extractive industry and civil society, to ensure that Guyana meets all the milestones required for EITI compliance.
"We are now in the process of completing our final draft of the work plan, which must be published. In the meantime, we will be holding public outreaches…We will later prepare the candidacy application. We plan to send it to the International EITI Secretariat by August," he explained.
Upon review of Guyana's application, it will be decided if the country meets all the requirements at the next EITI International Conference, which is scheduled to take place in Indonesia in late October. Dr Jadoopat has expressed optimism that Guyana could become compliant by this year.
In providing some detail about EITI, the National Coordinator said the initiative was to ensure that oil and gas companies operating in Guyana publish what they pay to the Government in taxes and royalties. Under the EITI standard, companies publish what they pay to governments, and governments publish what they receive in an annual EITI country report.
In his remarks, Natural Resources Minister Raphael Trotman said that while there were examples in some countries where the Government was a dominant force in EITIs, the current Administration has deliberately chosen not to be pre-eminent, but to allow the multi-stakeholder groups in the extractive industry to take prominence.
"We ensured that we would not only make our self a minority, but ensure that every sector would be represented by just four persons, each, of course, with an alternate…We recognise that as we hurdle towards the production of oil and gas in a few years' time, that we ought not to wait to put certain fundamental things in place when that production begins, but rather do them earlier than later," he stated.
In many countries, most of the revenues from natural resources accruing at subnational levels are not derived from company payments to local government entities, but from transfers from the central government. Depending on the revenue-distribution frameworks in place, these transfers can be a considerably larger source of revenue for subnational entities than taxes and fees collected at local levels. The revised EITI standard requires that such transfers are reported where mandated by law and where material.
Where companies are legally or contractually required to make social contributions, these must be disclosed, under EITI standards. Where countries collect significant revenues from the transportation of oil, gas and minerals, such as pipelines, the Government will also be required to disclose the revenues received.
The requirement to publish annual activity reports is not limited to compliant countries, the EITI said. It is foreseen that countries will report on progress with meeting the EITI requirements as well as (on) efforts to achieve the objectives set out in their work plans.
Validation is procured and managed by the EITI's International Secretariat rather than by implementing countries. Countries undertake validation more frequently, with compliant countries being revalidated every three years as opposed to every five years under the old rules.