In light of the global pandemic, COVID-19, Hand-in-Hand Mutual Fire Insurance Company Ltd has pledged its support by offering free life insurance coverage for one year to all public healthcare workers countrywide.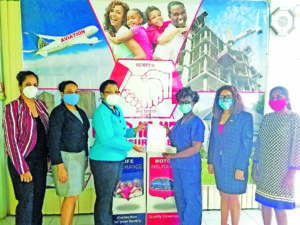 In a simple presentation at the company's head office on Wednesday last, Hand-in-Hand's Human Resources/Admin Manager, Zaida Joaquin, presented the official group certificate of insurance to GPHC's Emergency Medicine Specialist, Dr Melissa Rickett, and Human Resources Director Rohmena Chung.
The group certificate of insurance was issued to offer coverage for medical professionals who would have opted for the offer.
Joaquin expressed the company's sincere appreciation for the dedication and commitment of all healthcare workers, especially during this trying time.
Similarly, Chung expressed gratitude to the insurance company for recognising the efforts of the healthcare team, as they work tirelessly to ensure the health and wellbeing of everyone, especially those infected with the COVID-19 virus.
However, Hand-in-Hand would also like to welcome other interested public healthcare workers to contact them on 225-1865-7/226-2197 or via social media (Facebook or WhatsApp: 592-618-7820) for more information.
The company also encouraged all to continue to take the necessary precautions as Guyana fights to reduce the spread of COVID-19.