…court has no jurisdiction to extend Constitution's 90-day election provision – PPP
The People's Progressive Party (PPP) has made it clear that the Judiciary has no power to extend the 90-day deadline for holding elections after a no-confidence vote that is mandated by the Constitution of Guyana.
This is even as a court case was filed on Friday by a private citizen, Compton Herbert Reid, seeking to reverse the Government's loss of the no-confidence vote on December 21, 2018, on the basis that parliamentarian Charrandas Persaud was not qualified to be elected to the National Assembly because of his Canadian citizenship. Reid is also seeking an extension of the constitutionally required 90-day deadline for elections. According to the PPP in a statement on Friday, the party will be joining the proceedings in order to defend Guyana's democracy.
"Having failed to persuade the Speaker of the National Assembly to reverse his ruling on the No-confidence Motion and thereby violate the Constitution of Guyana, the coalition Government has now moved to the Judiciary to get the Judiciary to do likewise, in their desperate attempt to hold onto the reins of Government," the Party stated.
"The Judiciary has no jurisdiction to violate or extend any timeframe prescribed by the Constitution, since the Constitution is supreme and the Judiciary is subject to the Constitution, not vice versa," the Party added.
Citing the arguments contained in the fixed date application, the Party observed that the case largely rests on whether now expelled Alliance For Change (AFC) Parliamentarian Charrandas Persaud was qualified to be elected to the National Assembly because of his Canadian citizenship.
"We must point out that it is the very A Partnership for National Unity/AFC who placed Charrandas Persaud in the National Assembly in the first place and relied on his vote for the past three years. Now this self-serving bunch is prepared to put the entire nation into chaos and do untold damage to our national interest by invalidating everything done and every law passed in the Parliament, since 2015."
"Fortunately, the Constitution makes provisions for such eventualities and deficiencies of these types cannot invalidate proceedings, in which a member so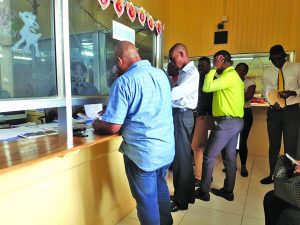 affected, may have participated," the PPP statement added.
The Party cited Article 165(2) of the Constitution, which states: "The Assembly may act notwithstanding any vacancy in its membership (including any vacancy not filled when the Assembly first meets after the commencement of this Constitution or after any dissolution of Parliament) and the presence or participation of any person not entitled to be present at or to participate in the proceedings of the Assembly shall not invalidate those proceedings."
"The legal proceeding filed is, therefore, frivolous and is simply intended to be used by the coalition Government as a lifeline to remain unlawfully and unconstitutionally in office. We expect that this matter would be heard on a day-to-day basis."
"Needless to say, we will join the proceedings and we ask other interested parties, who wish to take an active part in the protection of our Constitution and democracy to do likewise," the Party added in its statement.
The writ
In a section of the affidavit, submitted to the High Court, it is stated that an application is being made for a declaration from the court that Persaud is not qualified as a member of the National Assembly.
According to the document filed, Persaud "…by virtue of his own act and acknowledgement of allegiance, obedience and adherence to a foreign power to wit, the Sovereign State of Canada, in contravention of Article 155 (1) (a) of the Constitution of Guyana".  Reid, the private citizen who filed the legal challenge is arguing that the former MP's vote was null and void, noting that, "There were only 32 valid votes of 'yes' in favour of the motion of no-confidence and 32 against".
Prominent Attorney Rex McKay filed the challenge on behalf of Reid while the respondents are listed as Speaker of the National Assembly, Dr Barton Scotland, Charrandas Persaud and Attorney General Basil Williams.
Reid in his affidavit is asking the court to, among other things; grant a court order that will allow the coalition Government to remain in office until the hearing and determination of the case.
On December 21, 2018, the No-confidence Motion brought by the parliamentary Opposition – the PPP/Civic – against the Government succeeded when Persaud, a former AFC Member of Parliament, broke rank and made a conscience vote in favour of the motion.
With the Government's defeat, the Constitution of Guyana is clear about the next steps. Article 106 (6) of the Constitution states: "The Cabinet including the President shall resign if the Government is defeated by the vote of a majority of all the elected members of the National Assembly on a vote of confidence."
Meanwhile, clause 7 goes on to state that, "Notwithstanding its defeat, the Government shall remain in office and shall hold an election within three months, or such longer period as the National Assembly shall by resolution supported by not less than two-thirds of the votes of all the elected members of the National Assembly determine, and shall resign after the President takes the oath of office following the election."