…GGMAF aiming to host club tournament in last quarter of 2022
Fast-food giant KFC Guyana has plugged a hefty sum of $2 million dollars into the Guyana Mixed Martial Arts Team as they prepare for the IMMAF Pan Am Championships set for June 20-22, 2022.
Those championships will see the local contingent travelling to Mexico to compete. This will be Guyana's second outing to a tournament of this kind, as they recently competed in the IMMAF World Championships in January in Abu Dhabi.
Speaking on behalf of KFC was Marketing Manager Pamela Manasseh, who expressed much satisfaction in supporting the quest of the team. "KFC is proud to be the leading sponsor for the Guyana Mixed Martial Arts Federation. We are pleased that the federation was invited by the IMMAF to the Pan-American Championships which is schedule for Montero, Mexico. On behalf of our KFC management and staff throughout Guyana, we would like to wish the federation safe travels and many successes in the upcoming tournament."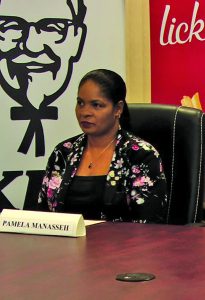 Also sharing his sentiments was Guyana Mixed Martial Arts President, Gavin Singh, who stated that the association is grateful to the fast-food giant for coming on board to support them yet again.
"In January 2022, Beharry Restaurant Holdings, under the KFC franchise, not only provided sponsorship for our national team to attend the first World Championships in Abu Dhabi, but they also pledged to aid in future competitions. They also promised to work together with the federation to aid in the development of the sport in Guyana", Singh shared.
He also thanked the board of directors and the marketing manager among others of the KFC franchise for the efforts they have put in, supporting the team on their journey. He noted that the federation is aiming to select eight athletes to attend the games in Mexico, and relayed that the contingent would include one official and sports journalist Rawle Toney.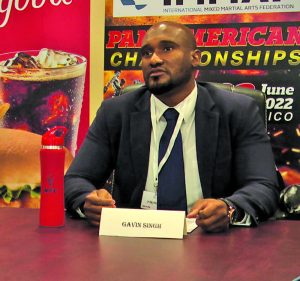 He mentioned that the federation has already selected the teams by means of club athletes' registration through the federation. Some of the clubs are Phoenix Jujitsu, Guyana Police Force Mixed Martial Arts Club and 3 RYU Karate Club. The GMMAF boss explained that some of the clubs are willing to exhibit their athletes for selection, while some were a bit reluctant to do so due to the unpreparedness.
"Most of the coaches and executives have expressed the need for a camp for these competitions. However, due to funding, it has not been executed as we would have liked to see. The preparation of these athletes is a process, and entails individual selection, training mechanism, coaching apparatus, medical and antidoping training. It is a challenge, and one which we will indeed overcome," Singh posited.
Singh is confident that his federation would be working arduously as they have plans to host a tournament in the last quarter of 2022 among clubs, and inviting athletes to qualify for the World Championships that are going to be held Abu Dhabi.
Singh said, "Many people may say that the task we aim to achieve is impossible, but impossible means we just haven't found the solution as yet. It will take commitment from companies such as Beharry Restaurant Holdings, who understand that their company's success is not only measured in sales, but also contributing to development of sports, academics, and cultural growth in our country. That will make the impossible tangible reality."