Citizenship Minister, Winston Felix, on Saturday told residents of Kuru-Kururu on the Linden Highway that, among the things, a part of the upcoming oil revenues should be used on a programme which will help victims of domestic violence, as many victims especially women are often forced to live under abusive circumstances because they are unable to fend for themselves.
Felix was at the time speaking at a seminar which was hosted after a domestic violence awareness walk that was organised by the community's Neighbourhood Democratic Council (NDC).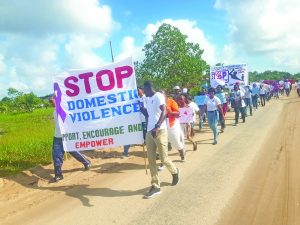 "If it's (circumstances) really bad it means that these women are not working and they have three or four children to support. The question of how the removal of the breadwinner can be replaced so that the question of support does not get lost (and) that is one of the issues which I think over time we will have to overcome probably with oil and the revenue from oil we might be able to develop or put some money into social programs that will support women whose husbands have been either in prison or have been separated from the home and they have very little means of support," he said. The Minister further told the gathering that such issues cannot be addressed by hiding them but rather a firm position must be taken on such matters in order for domestic violence to be defeated.
He reminded that the Government, back in 2016, had established a national task force to tackle such issues which has begun work in the hinterland areas. While nothing tangible has materialised from that task force, the Help and Shelter and the Guyana Hindu Dharmic Sabha has established a shelter for children and women who are victims of abuse.
Only last year, Acting Chief Magistrate Sherdel Isaacs-Marcus said there was a grave need for the availability of more safe houses to protect domestic violence victims and survivors.
Meanwhile, the awareness walk was triggered by the recent spike in fatalities caused by domestic violence in the small village.
As scores of persons walked through the streets chanting "when you heat up don't beat up" among other chants, a number of persons joined the lines of people to effect a change in their community, some joining from their homes and even businesses.
Councillor in the community, Raphael Bagot explained, "The incidents of horrific activities in our community beginning with the murder of a legal clerk and the most recent is the discovery of a dead body in [a] bus shed at the front of this community have contributed to us putting this event together. Included in those acts was what was believed to be a murder/suicide and we later found out that it was a double homicide.
We also had the incidence of a person attempting to murder his lover who survived and then that person committed suicide".
One of the organisers, William Ramlall, who was tearful during his presentation shared his story, explaining that he was once a victim of domestic violence and was always passionate about a change in his community.
Residents of the village benefitted from educational talks from various organisations.
According to statistics from a study conducted by Red Thread which was released last year, 81 per cent of domestic violence cases were reported by women as against 17 per cent being reported by men.