A new $30 million building to house the New Amsterdam office of the Lands and Survey Department was on Wednesday commissioned in the country's oldest town.
Previously, the New Amsterdam office of the Lands and Survey Commission was housed in the compound of the Regional Democratic Council.
Minister of State Joseph Harmon speaking at the commissioning ceremony said the project was constructed by GUY Construction Services and took nine months to be completed.
The Lands and Survey Commission, he noted, has always had a strong board and management has taken seriously its obligations.
The restructuring of the department is as a result of the undergoing restructuring of the land policy.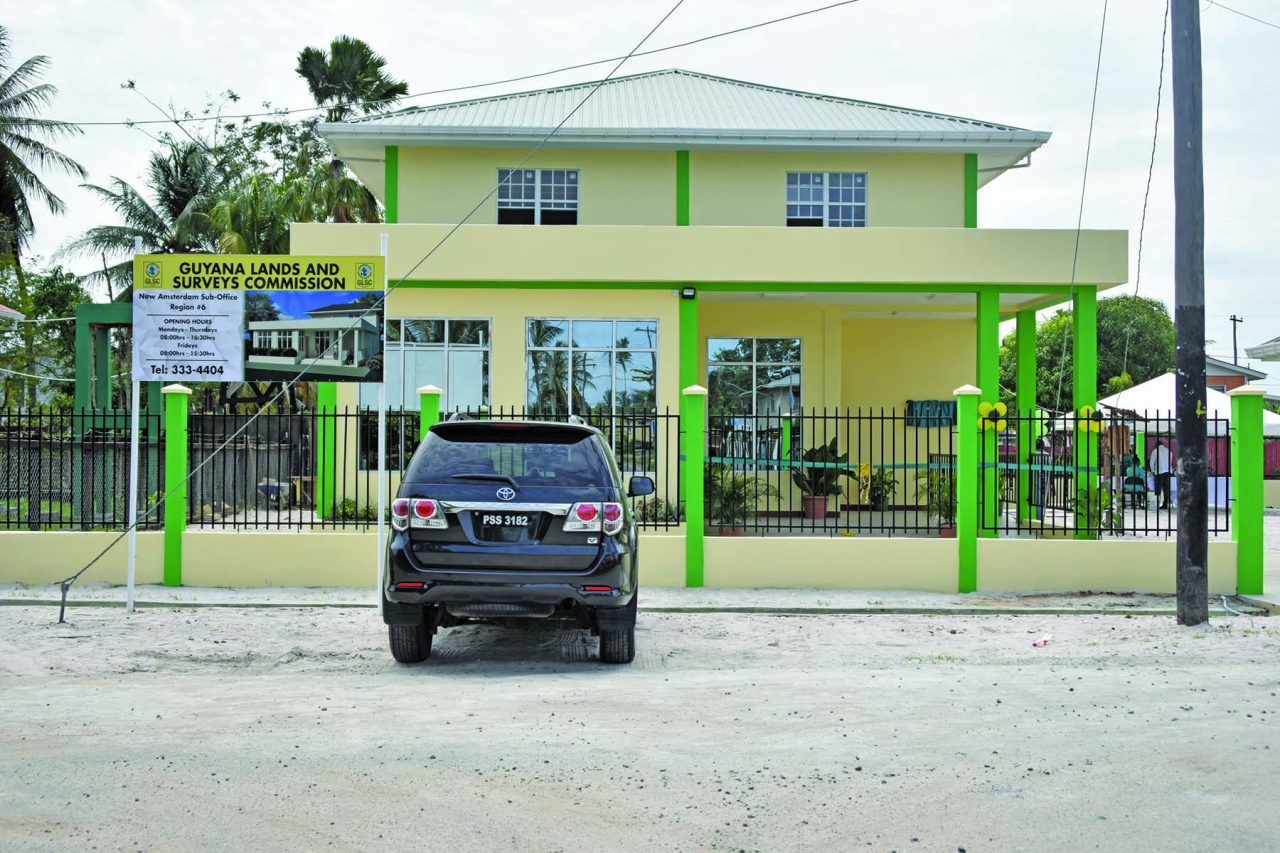 "So the physical facilities which you see are only a part of that restructuring which is taking place in land management and the Police in relation to land. Everywhere you go as the populations expand you have a conflict to resolve in relation to land because to the extent to which the population and domestic use expand, it is to that extent that you commercial, industrial and agricultural use being challenged. So it is an important issue which the Guyana Lands and Survey Commission is tackling. And they are tackling it in a very methodical way with the help on international organisations and with the skills available to the Commission," Minister Harmon said.
Land Administration Division Manager Michal Hutson explained that the Region Four (Demerara-Mahaica) Sub-offices which is largest in terms of revenue was the first to be restructured.
"Region Six [East Berbice-Corentyne] is our largest portfolio in terms of acreage but it is our second largest in terms of revenue, so naturally after Region Four it will be Region Six."
Meanwhile, upgrades have also been done to the Springlands and Black Bush Polder offices in the region. Construction has started for a new office at Crane in Region Three (Essequibo Islands-West Demerara). Region Seven (Cuyuni-Mazaruni) will also be having its own lands and survey office at Bartica.
Hutson said upgrades have also been done in Region Two (Pomeroon-Supenaam). The community of Kwakwani is soon to have a sub-office of the Lands and Survey Commission. So too is the mining community of Port Kaituma.
Hutson says new offices are not all the Commission will be focusing on but services will be upgraded too.