The results of a post-mortem examination (PME) conducted on the body of Linden toddler Keron Abrams on Friday proved that the child died as a result of asphyxiation due to drowning. The examination was performed by Government pathologist Dr Nehaul Singh at the Georgetown Public Hospital Mortuary. The body of the 10-month-old has since been handed over to relatives for burial.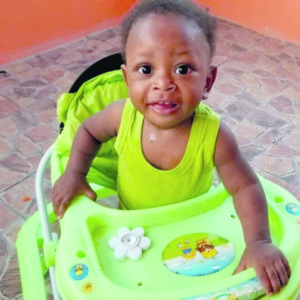 Reports indicate that Abrams accidentally fell into a bucket of water after he was left in the care of his siblings at his Section 'A' West Watooka, Wismar, Linden home on Tuesday.
Reports are the child accidentally fell into the bucket at about 16:10h. He was left at home with his siblings while his mother, who is a security guard, went to work. This newspaper was told that the child's older sibling left to answer a phone call and upon her return about 10 minutes later, she saw her younger sibling rushing through the front door of the house with the toddler in her hands. She related that he fell into a bucket of water. The child was rushed to the Linden Hospital Complex (LHC), where he was pronounced dead on arrival.