ꟷ says time to impress on honesty, integrity
Embattled Chief Elections Officer, Keith Lowenfield could find himself before the courts over his fraudulent elections report to the Guyana Elections Commissions (GECOM) in which he invalidated over 115,000 votes.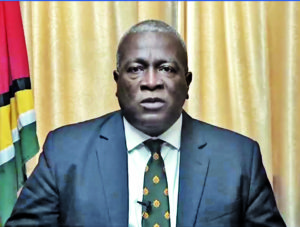 This is according to Prime Ministerial Candidate of the People's Progressive Party/Civic (PPP/C), Brigadier (ret'd) Mark Phillips, during an interview broadcast on Antiguan radio NICE FM 104.3 Online.
Phillips pointed out that despite the Elections Commission instructing him to use the results from the National Recount, which shows a PPP/C victory over the caretaker APNU/AFC coalition by more than 15,000 votes, Lowenfield went ahead to submit his own figures in a "fraudulent and erroneous" report.
This, according to the PPP/C PM Candidate, is just another fraudulent act that has been perpetrated by elements within the Lowenfield-headed Elections Secretariat since the March 2 General and Regional Election in favour of the APNU/AFC.
He reminded that the Chief Elections Officer is just a statutory officer who is under the guidance of constitutional officers at the level of the seven-member Elections Commission, and there will be consequences for his actions.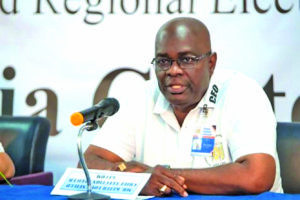 "This is nothing but crass assumptions of our electoral laws and process by a rogue statutory officer in the name of Mr Keith Lowenfield. This will only serve to put him before the courts of Guyana because in effect, what Mr Lowenfield has done is disregarded the laws of Guyana and committed fraud on [more than one] occasions," Phillips stated.
He explained that the GECOM Chair, (ret'd) Justice Claudette Singh, specified in writing to the CEO the laws under which he must be guided in submitting his report but instead, he misguidingly and deliberately submitted a fraudulent report that is also disrespectful to the GECOM Chair and Commissioners of the seven-member Commission.
"He submitted his own figures because in his little mind, from the figures he submitted, he wants the APNU/AFC coalition to be deemed the winners of these elections. But the fact remains that we had elections and the people voted out of office, the APNU/AFC. The people voted for a PPP/C Government and Mr Lowenfield can twist the facts how much he wants, the entire world is aware [of who won the elections]," Phillips contended.
The Prime Ministerial Candidate further outlined that it is now nearly four months since Guyanese went to the polls and are anxiously waiting for this protracted electoral process to be over with so that the country can move forward. As such, he called for honesty and integrity to prevail.
"As we're about to have the official declarations from GECOM, this is a time for us to impress on honesty and integrity because the numbers are out there. The PPP/C won these elections. There is no need for the PPP/C to lie, to miscommunicate or spread any propaganda. We have said from the inception that we have won these elections and we have said that based on the Statements of Polls in our position (which we got from GECOM) …and we have the Statements of Recounts… they're basically the same. A number here and there may have changed because of human error but there is no vast difference," he asserted.
Nevertheless, Phillips is of the view that the APNU/AFC's constant change in the narrative it is peddling will continue since they appear to have a strategic imperative to remain in office at all cost.
"It is obvious to any Guyanese who is observing, or any member of the international community who is observing this process that here we have a political party that was properly voted into Government at the 2015 elections. But five years after, it has no intention of demitting office through the same process that elected them into office… [So] they will change the narrative as we go. And expect further change in their narrative as we go on because it's just a cabal, a small group, who is bent on holding on by all means possible to political office in Guyana," asserted.
As the backlash from numerous credible local and international organisations continues to mount, this is not the first time Lowenfield has been warned of consequences for his actions.
In fact, only on Saturday President of the Georgetown Chamber of Commerce and Industry (GCCI), Nicholas Deygoo-Boyer called for him to withdraw his report to the Commission and warned of consequences otherwise.
"Rest assured that when all of this comes to an inglorious end, you will face the consequences of the law if you dig your heels in to plunge off a cliff with our country in tow; instead you can change course and do the right thing to let our nation move forward with a genuinely 'credible' election cycle and heal," the GCCI President posited in a letter to the CEO.