…4 injured
A building owned and operated by Banks DIH Limited at Industrial Estate, Ruimveldt, Georgetown on Wednesday collapsed during a demolition exercise, resulting in the death of one person and injury of four others.
The dead contracted worker was identified as Jagmohan Bissessar while 25-year-old Anthony Lowe of Mocha Arcadia, East Bank Demerara (EBD) was admitted a patient at the Georgetown Public Hospital. The three other injured persons were treated and sent away.
Based on reports received, the incident occurred around 13:00h.
When Guyana Times arrived at the scene, officials from the Guyana Fire Service and the Guyana Police Force, accompanied by medical personnel, were assessing the situation.
This publication understands that after the building collapsed, the men were trapped under the debris for some time before they were rescued.
After the men were pulled out, they were taken to the Georgetown Public Hospital to seek medical attention. Bissessar was pronounced dead on arrival.
Back at the scene of the incident, the area was cordoned off and an investigation was launched.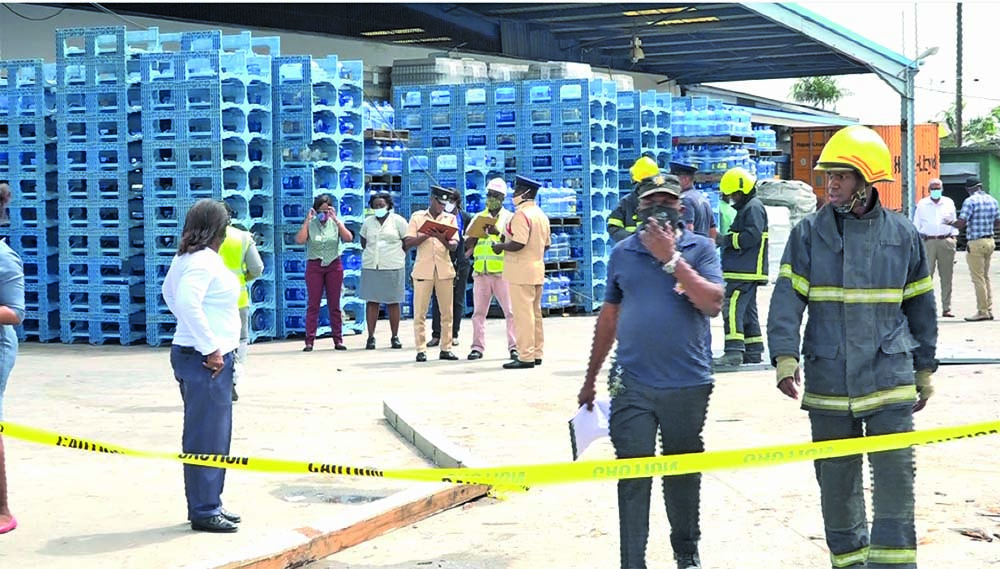 Speaking with the media at the scene, second-in-command of operations at the Guyana Fire Service, Clive McDonald explained that they received a report at approximately 13:12h, informing them that the building had collapsed.
Two tenders and two ambulances were immediately deployed to the location.
"We received a call at the operations room of the Guyana Fire Service of a collapsed shed. Immediately, we dispatched two appliances – one from the Central Fire Station and one from the Ruimveldt Fire Station, and two ambulances to the scene," McDonald said.
Upon arriving at the scene, the firefighters were informed that two persons were trapped under the debris. Without hesitation, the firemen sprang into action and rescued Bissessar and Lowe.
"There were three others who suffered minor injuries and they are what we would term 'walking injured' but they are stable at this point with no immediate threats," the Fire Service official added.
Meanwhile, in a release to the media, Banks DIH Limited stated that the men were employed under Home Designs- the company that was contracted to conduct demolition and other works. At that time, they were working to ensure that the employees receive proper medical care."
"Several of the staff have varying injuries that are being assessed. We are working to ensure they get the best possible emergency care at present," the company said through its Public Relations Officer, Troy Peters.