– according to Prison Director
The acting Director of Prisons, Mr Gladwin Samuels, has refuted claims that there has been no follow-up on the recommendations arising out of the Commission of Inquiry (CoI) into the last fire and unrest that occurred at the Georgetown Prison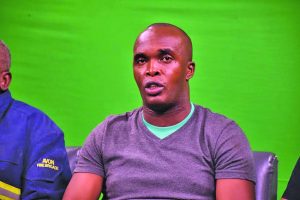 on Camp Street in 2016.
Mr Samuels has said that the issue is being addressed in steps, as for example staff shortage that was identified by the CoI. "As it relates to some of the recommendations made, we have gone on a recruitment drive, where our entry level is filled in terms of recruiting persons to assist in manning the prison," Samuels noted.
According to a GINA release, Mr Samuels stressed, "A lot of the recommendations are a work in progress, and we have several consultancies going on right now that will serve to guide the implementation of some of the recommendations."
He, however, explained that finances have been a major challenge to the implementation of some of the major recommendations coming out of the CoI. "There are some 40-odd recommendations that came out of the last Commission of Inquiry (CoI); and a lot of the major recommendations that came out require capital investment, which we are currently working on," Samuels pointed out.
The CoI report cited the combination of overcrowding and uncomfortable and unhygienic confinement at the prison as having created the ideal conditions for epidemics, and for gangs to prosper and propagate discontent.
The CoI recommended reducing numbers in the prison to manageable levels as the single most important priority for establishing a safe, humane, and purposeful environment. Towards meeting this recommendation, the Government has commenced work to expand the Mazaruni Prison in Region Seven.
Government had injected over $350 million into expansion works at the Mazaruni Prison to accommodate more inmates as part of efforts to address the overcrowding at the Camp Street, Georgetown prison.
Last year, seventeen prisoners in the Capital Section of this Georgetown Prison died as a result of an unrest started by the prisoners. That unrest also resulted in damage to several sections of the prison.
Most of what was the Georgetown Prisons has been destroyed by the events that unfolded on Sunday, July 09, after several fires were simultaneously started in multiple locations in the prison in a coordinated attack by the inmates.
The prisoners initially set fire to two locations of the prison, the Strong Cell Division and the Wooden Prison/Condemned Division, but the fires quickly spread to other parts of the prison compound, and eventually gutted all the wooden sections of the facility. Officials have confirmed that the fires were orchestrated by Mark 'Royden' Durant, who wanted to escape, and were meant to be distractions for his escape bid.
Following the fire, the authorities were forced to relocate the prisoners to the Lusignan Prison. Some of the prisoners were later moved to the Mazaruni and New Amsterdam Prisons.