…persons to be prosecuted for illegal dumping
Director of Solid Waste at the Mayor and City Council (M&CC) of Georgetown, Walter Narine on Friday took on a new challenge to clear illegal dumpsites around the city.
In an interview with Guyana Times, the director noted that most of the 27 illegal dumpsites reported were cleared.
Narine noted that a crew from the M&CC have been working tirelessly to ensure the city is clean, especially with Mashramani just around the corner.
He warned that persons who continue to dump their waste illegally will face the full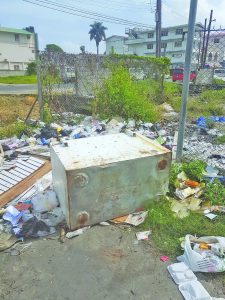 wrath of the law.
According to him, City Hall plans to reinforce the laws, which will see persons being prosecuted for illegally dumping their garbage.
This enforcement, he said, will be done by City Constables who will be looking out for such persons.
The illegal sites according to Narine were all reported by public-spirited persons. He said, "I solicited locations from citizens on Facebook and they would have given me 10 sites and we had in our possession another 18 so we ventured out to clear those today (Friday)".
A few of the areas which required cleaning were Lamaha Gardens, Sandy-Babb Street, Kitty, Blyzeight and the Railway Embankment. Narine noted that while some of the sites required a lot of man power, others required less labour.
Since the two major garbage collectors Puran Brothers and Cevons Waste Management withdrew their services in November of last year owing to City Hall's inability to pay the collectors, persons have been dumping their garbage at illegal sites.
However, five small garbage contractors have since expressed willingness to work with the Council.
According to the governing body in the Capital City, it expends approximately $30 million monthly for the removal of waste from the Georgetown environs. This solid waste management bill, it added, accounts for 38 per cent of the Council's monthly income, which is some $89 million.