…claims local housing "safer than foreign stocks, bonds"
When it comes to the future viability of the National Insurance Scheme (NIS) and investments, Chairman John Seeram and Finance Minister Winston Jordan held differing views on how the Scheme should maximise its earnings through investments.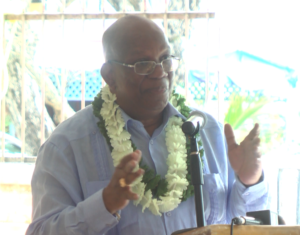 During the NIS' 50th anniversary celebrations, which kicked off with bursary awards at its Brickdam office, Seeram spoke of the need to revamp the Scheme's investment portfolio, particularly through overseas investments.
"Its investment portfolio has not been earning the rates of returns on some of its bonds and shares, in keeping with global returns. We will need to consider purchasing more attractive bonds and shares, which are traded on the global stock markets such as New York, London, Japan, Hong Kong, as opposed to renewing the terms of the securities".
He added that going this route, which is highly recommended, will require approval by the relevant authorities, adding that both 2017 and 2018 audited financial statements have revealed deficit net income. There is the possibility, he added, that the deficit can be gradually reduced, eventually eliminated and lead to NIS showing positive net income in the near future.
Seeram also referenced the 9th actuarial report, the product of a review last year that was conducted by the International Labour Organization (ILO). Seeram stressed that the recommendations from this report must be acted on.
"This report contained nine recommendations. And presently, the board and the management are looking at the findings and the recommendations. But I'll emphasise that positive action on the recommendations is required since we are looking at the Scheme's financial viability in the next decade".
Clash
Minister Jordan, who was the feature speaker of Wednesday's event, took the time out of his speech to pour cold water on Seeram's suggestion of overseas investments. The Minister likened the suggestion to the "dog and the bone" analogy.
"You know Guyanese got a saying, your eyes big? We have to be careful. Yes, the interest today from treasury bills are returning virtually nothing. But at the same time, it is safe. So I would pick a bone with the Chairman, about sending our money into lands where we don't have that security," Jordan said.
"We have to be careful. And in any case, to take $5 million of NIS money to be invested on stock markets in New York requires it to be converted to US dollars. You're converting at the selling rate, so if the selling rate is $218 and you take that and invest and you get a return of US$1 million, that US$1 million will come back into Guyana at the buying rate, which might be $215, $212. So you're going to be losing… so don't be big-eyed".
Jordan proffered housing as a safer investment opportunity waiting for NIS, noting that at the moment, there is a demand for housing. He stressed that the Scheme should avoid carpetbaggers and work with reputable organisations.
"There's a huge demand for housing and office space. I say to you, get your property section going. And see where you can invest and get a quick, fast return that is better than the one you are getting on treasury bills".
"There's a huge demand for housing and if you work with CH&PA (Central Housing and Planning Authority), work with known groups… to see how we can continue to do our social part by creating more housing, while also improving monies we receive".
The Ministry of Finance's Half-year Report shows that the NIS is in a worsening position, as its multimillion-dollar deficit continues to grow while revenue collection increases.
Deficit
According to the report, NIS recorded an overall deficit of $748.4 million for the year, compared to the $715.6 million it recorded in the same half-year period for 2018. Revenue collection so far for 2019 was $11.9 billion, 9.7 per cent more than the same period for 2018.
"This improved position resulted from higher wage bands, on account of an increase in wages and salaries, as well as improved collection of outstanding contributions from delinquent employers," the report says.
At the same time, however, NIS continues to struggle with collecting contributions from the self-employed persons. Some $492 million was collected from the self-employed. According to the report, this is 22 per cent lower than the half-year target of $627.8 million, despite ongoing campaigns.
According to the report, NIS is working closely with the Guyana Revenue Authority (GRA) to update its database of self-employed persons. And as of June 15, 2019, self-employed persons can pay their contributions using Guyana Telephone and Telegraph (GTT) Mobile Money.
As fast as money has been coming in, the Scheme has also had to keep up with the payment of claims. According to the report, expenditure for the period under review increased to $12.6 billion, from $11.5 billion at the end of June 2018, mainly owing to an increase in benefit payments. The report notes that these payments were 91.4 per cent of total expenditure.
"The latest forecast projects a deficit of $546.7 million, a worsening position from a budgeted surplus of $469.3 million. This was mainly due to a shortfall of $1 billion or 4.5 percent in employee contributions, compared to the amount budgeted for at the half-year, as well as an increase of $449.3 million, or 1.9 per cent in benefit payments," the report also stated.