By Paula Gomes
Head held high, in her signature six-inch stilettos – to compensate for her exquisitely petite build – she serenely walked with a regal air into the Annual Moruca Pageant and effortlessly stole the much coveted title of 2017 as the curtains drew on July 22, 2017 at the 13th Annual Moruca Expo in Region One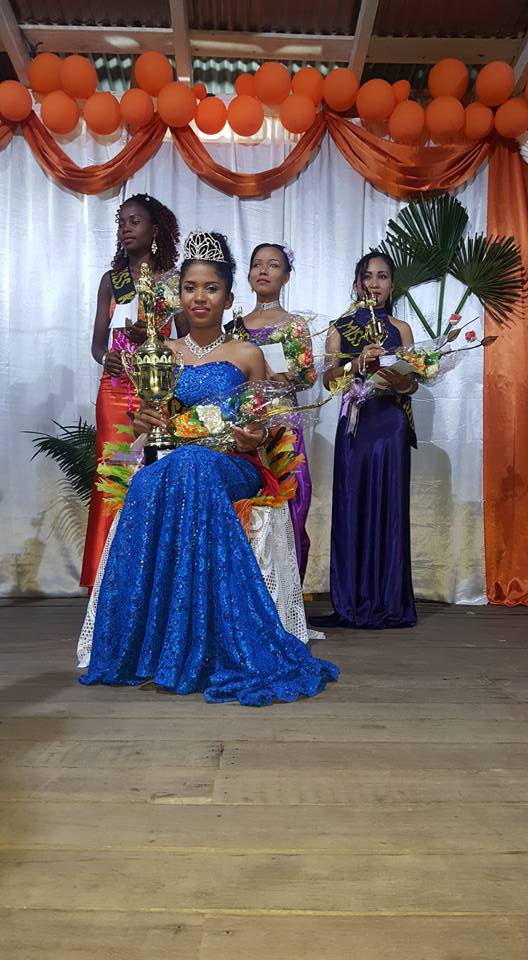 (Barima-Waini).
Resilient-spirited Andrea Marslowe could not have asked for a better 20th birthday present, being conveniently crowned on her birth night by Business Minister Dominic Gaskin.
The pageant diva of mixed Indigenous ancestry, despite having roots in the North West District, was born in Suddie on the Essequibo Coast in Region Two (Pomeroon-Supenaam), to parents Gary Marslowe and Lucy Wilson; she is the third of eight siblings. Marslowe began her nursery education in Bethany, Essequibo, and moved to attend Santa Rosa Primary School where she emerged as a top student at the National Grade Six Assessment in 2008. Her shine did not stop here as she proceeded to sit nine subjects at the Caribbean Secondary Education Certificate (CSEC) level and qualified to attend Sixth Form at President's College in 2014.
The Santa Rosa beauty wrote a total of 12 units at the advance level gaining passes in all and graduated from the senior secondary institution in 2016. During her time at President's College, Marslowe was actively involved in the President's Youth Award of the Republic of Guyana (PYARG) Association and was selected to represent President's College in the regional pageant in 2015; she placed second and copped several awards.
The young Marslowe had developed a fascination with sea creatures and had since desired to become a marine biologist. Since graduating from President's College, she has been gainfully spending her time volunteering and working with underprivileged youths across the country, an initiative which she embarked on over the past few years. She believes that she can make an impact on their lives by sharing her own past experiences. The Amerindian beauty queen idolises and holds in high esteem, Marti Desouza. "His legacy as an Amerindian descendant has shown the world that it doesn't matter where you came from, you can be successful once you put your all into it," she says.
Marslowe took much pleasure in walking Guyana Times through her pageant journey in an exclusive interview on Sunday.
"My journey was one to always remember, since it's one of the best birthday presents ever received – becoming Miss Moruca. I could not have done it without my mom and my sister, who believed in me even when I didn't. My challenges were more of a personal one since I had a lot of self-doubt," she disclosed.
Responding to some criticism on social media, Miss Moruca maintains that she believes that the judges' decision was an impartial one.
"While people out there thought I was fearless and buoyant, I was scared out of my mind…but I worked hard and hence, the outcome was more than I could've ever thought it would be."
The reigning queen spoke on her passion for pageantry while relaying that it was always her dream to follow in her elder sister's footsteps as she extended heartfelt gratitude to her family, more specifically her mother and sister who have provided invaluable support throughout her journey. As the reigning Miss Moruca 2017, Marslowe is seeking to launch a project geared at targeting youth empowerment in all communities throughout the Moruca District.