GLTA/GBTI Tennis Open
Rainfall has interrupted play for two days in the Guyana Bank for Trade and Industry's (GBTI's) Open 2017 Tennis Tournament, but has been unable to diminish the gathering or depreciate the competitive spirit of the numerous rousing matches.
Thus a sizable crowd was on hand to witness the continuation of Joshua Kalekyezi's so far dream run in this tournament, when he collaborated with Alana Chung to defeat Ariel Khan and Nathalie Ramdyhan to earn a spot in the semifinals.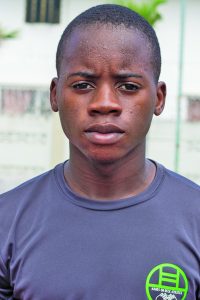 Kalekyezi and Chung fought their way to a hard earned 6-3, 6-4 win against Khan and Ramdyhan, the latter continuing to show promise with great form and strong forehands.
However, the 13-year-old Kalekyezi, who had made light work of Surrendra Khayyam on the opening night of the tournament to win 6-0, 6-2 in two sets, and has already won two junior titles for the year, went down to men's champion Anthony Downes, as he experienced mixed fortunes in the first week of the tournament. The talented player can take consolation in the fact that he had made it to the round of 16, and lost to the best local male player.
There was a lot of action during the week, and the following are the results, starting with play in the Men's single Round 32.
Veteran and last year's men's doubles winner, Harry Panday, won against Dominic Fraser 6-4, 6-2, his consistency and training proving to be key factors in his win. Heimraj Resaul had a strong first set against Alexey DeAlmeida, but after the rain delay, DeAlmedia launched a comeback. He, however, failed to deliver the final critical blow against the junior player, who eventually closed the match at 6-2, 6-4.
Philbert Clarke joined Murray and Kalekyezi in the double bagels fate. Viraj Sharma surprised the gathering as he played effortlessly against Clarke.
Mark McDonald took on his doubles partner Joseph DeJonge, the match ebbing and flowing for both contestants. McDonald was pegged as the favourite going into the match, but DeJonge fought every point to acquire a match point. Nerves and tension at the prospect of dethroning the number two junior proved to be his undoing, as McDonald saved the match point and took the game in his advantage and won 5-7, 6-1, 7-5; his relived mother celebrating the victory.
Men's Single Round 16
The level of competition at this year's GBTI Open has exceeded what had obtained in previous years. The investment in this competition has aided in producing the quality of play and given a glimpse of the potential future of tennis in Guyana. Double bagels were severed up by Andre Erskine against Ronald Murray.
Benjettan Osborne was all business in his 6-1, 6-1 win against Oswin Coggins. Osborne was calm and relentless in his attack of Coggins, who was unable to match Osborne's laser focus.
Viraj Sharma exemplified courage in his match against Coach Leyland Leacock. He handled the pressure well, and played decisive shots which gained him 5 games. Leacock eventually turned the heat on and won 6-4, 6-1. Leacock faces Osborne in the quarterfinal of the men's open single.
Jason Andrews booked his first GBTI singles quarterfinals after a battle of overcoming his nerves against Khawn Rodney. Rodney was anticipated to be a challenge, as he had the weapons to oppose the big serves of Andrews. He broke early and maintained a steady lead, but a shaky 8th game allowed Andrews to eventually regain his composure and close the contest with a 6-4, 6-2 win.
Jamal Goodluck managed to take two games off Nicholas Glasgow, but was not able to maintain his composure against the compactness of Glasgow's game. He opened the floodgates of errors, and Glasgow won 6-0, 6-2 to set up a rematch against the number one seed, Anthony Downes. The level of his game should afford him the ability to poke some holes in the seemingly impervious game of Downes.
Men's Double Round 16
Asif Subhan and Benjettan Osborne were eliminated from the men's doubles draw by Heimraj Resaul/Jordan Beaton, who defeated them 6-2, 6-1.
Andre Erskine/Mark McDonald obtained a 6-0, 6-0 win against Shimron Lewis/Ravin Rampersaud.
Ladies Round Robin
The budding rivalry between Cristy Campbell and Afruica Gentle was again on display, and although Campbell was able to put up a stronger defence than what she had displayed in the previous meeting, she was unable to deny Gentle a 6-1, 6-3 win. Afruica Gentle faced Kalyca Fraser and defeated her 6-1, 6-3. Fraser, who had given Gentle a fierce fight in the Sheltez Home Safe Security Tournament, was outmatched by the aggression and placement of Gentle. Gentle was able to defeat Grace McCalman 6-0, 6-0 by immobilizing her at the baseline.
Men's 45s Single Quarterfinals
Rudy Grant claimed a 6-0, 6-3 win against Brazilian Ambassador Lineu Pupo DePaula. Harry Panday carved out a 6-1, 6-2 win against new player Colin France.
Mixed Doubles Quarterfinals
Daniel Lopes/Sarah Klautky had a comfortable 6-1, 6-1 win against Tyrese Trim/Charlese Adams.
The tournament will continue throughout the week, with the final match predicted for Sunday, weather permitting.