The National Male U-15 team will depart Guyana today for Trinidad, en route to Florida, USA as preparations heat up for the CONCACAF U-15 Boys Championships, to be held from August 13th to 19th, 2017.
During the five-day stay in Trinidad and Tobago, the team will be engaged in three practice matches against youth teams, and Golden Jaguars' Assistant Coach, Charles Pollard, who is based in Trinidad, will work with the players on developing defensive techniques.
Technical Director of the Guyana Football Federation (GFF), Ian Greenwood, has said the team has had a very successful camp: "The squad's pre-tournament camp in Guyana is coming to an end after an extremely successful and productive period. The players, thro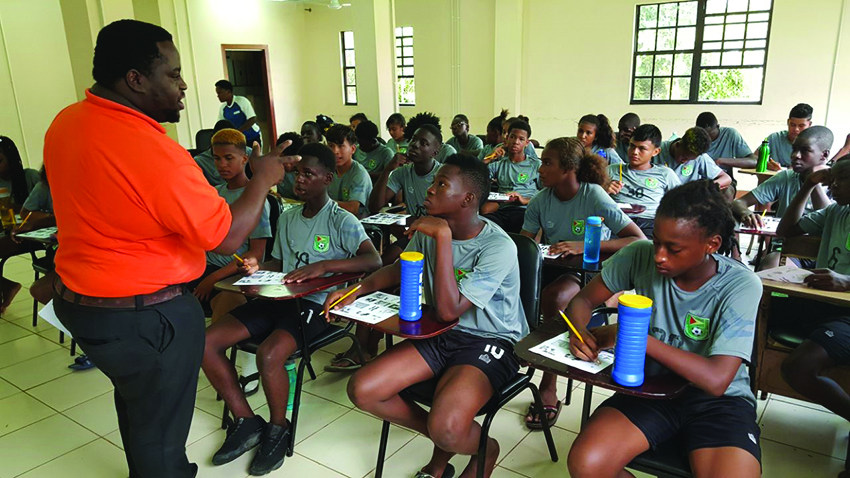 ughout the various encampments, have shown professional attitude both on and off the field (and) at all times," he declared.
As part of the activities during the encampment period, the team benefited from sessions facilitated by the Ministry of Social Cohesion on sexual offences and gender-based violence. The sessions were conducted by Mr. Adel Lilly, Senior Gender Specialist attached to the Sexual Offences and Domestic Violence Policy Unit. The sessions addressed how to identify and prevent various forms of violence.
The 18-man male squad consists of two goalkeepers, six defenders, five midfielders and five forwards from seven GFF-Scotiabank Academy Training Centres (ATC) and one player from Region One. The team is headed by Bryan Joseph, who is assisted by Devon Winter, while the Goalkeeping Coach is Eon De Viera.