‒ to compete in Centro-basket Championships
By Michelangelo Jacobus
Guyana's National U-17 Basketball team left home soil today as they travel to the Dominican Republic where they will be competing in the Central American and Caribbean Confederation's (CONCENCABA) Centrobasket U-17 tournament from July 26-30.
The team which was encamped for two weeks at the Cliff Anderson Sports Hall (CASH) prior to their departure was under stringent training sessions led by Head Coach Lugard Mohan, Assistant Coach Willon Cameron and Player Development Specialist Kenny Avent.
While the team's core is made up of players from last year's CBC U-16 squad there are some new faces, despite missing the talismanic Jordan Alphonso who is in the USA, Coach Mohan feels that Guyana has a good chance of medalling at the tournament.
In an interview prior to the team's departure, Kenny Avent noted that the team "it's a different team from last year (CBC U16 Championships), I think that we have improved defensively, we will be looking to press more (offensively) this year, we weren't that aggressive last year, the biggest improvement though is on the defensive end."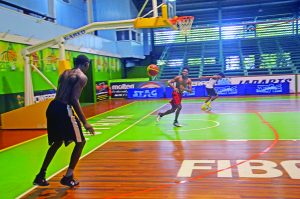 "The kids all have talent, they all have potential; really it's about them believing in themselves, my job and the coaches job is to help them believe in themselves, build their confidence. Their confidence grows through practicing hard, working on their skill set and since I have been here the level of intensity has inproved greatly and our goal every day is to just get better" Avent pointed out.
Other countries participating in the CentroBasket U17 Championships are Jamaica, Bahamas, Mexico, Panama, Puerto Rico, Dominican Republic and US Virgin Islands.
Guyana has been drawn in Group A, with Mexico, Bahamas, and Puerto Rico and will play their opening game on Wednesday (July 26) against the Bahamas.
The team will return on August 1, 2017. The Guyana delegation will consist of the following players: Nigel Bowen, Tramine Brown, Kelmar Carmichael, Akeem Crandon, Shamar France, Roydon Glasgow, Jether Harris, Andrew Johnson, Jermaine King, Kevon Wiggins, Anthony Yanson and Jahleel Young.
The coaching staff will be led by Lugard Mohan, Head Coach, Kenneth Avent, Assistant Coach, Andrew Hercules, Assistant Coach/Manager, and Jonas Anestal, Physical Trainer.