The MMP Foundation For Excellence has committed itself to pay for 74 students in Region Six (East Berbice-Corentyne) to write their Caribbean Secondary Education Certificate (CSEC) exams in June 2019.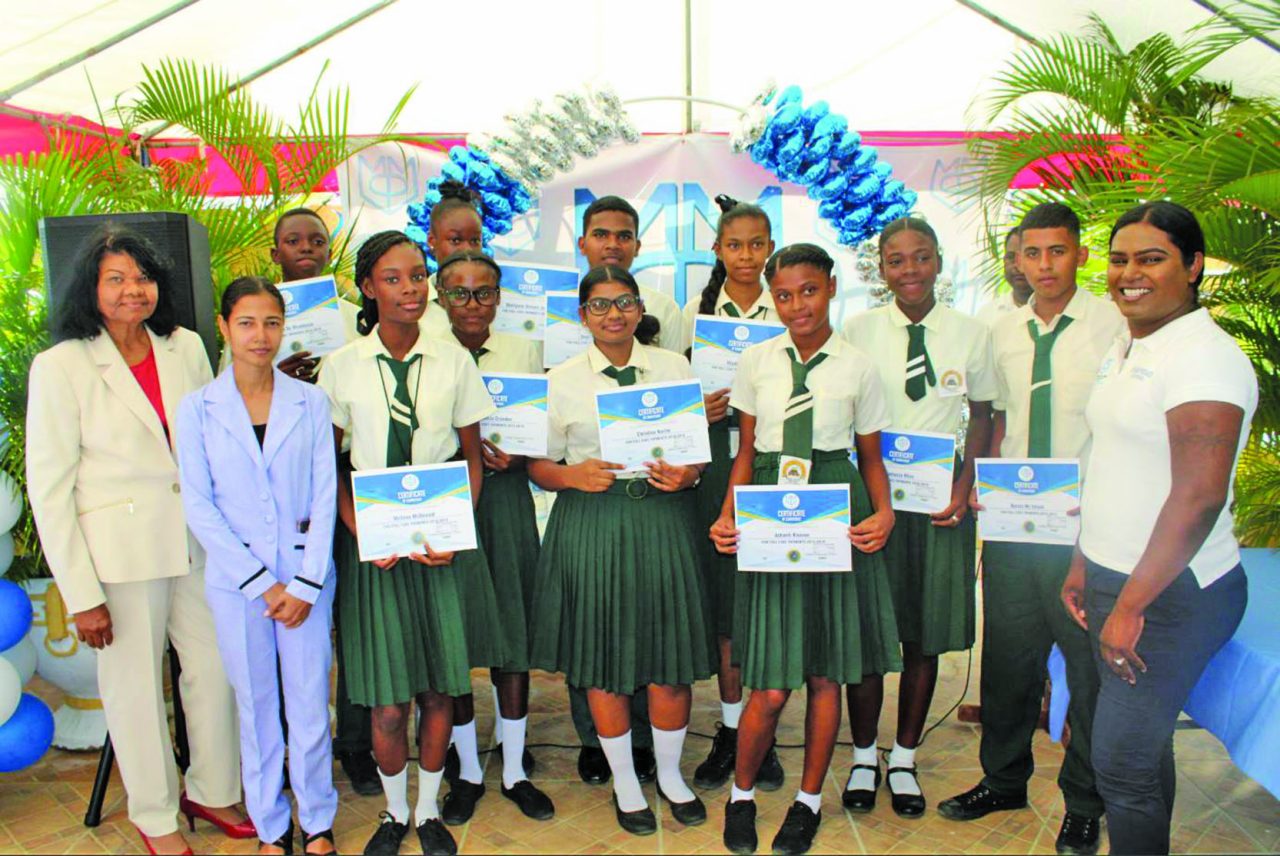 The students who were selected through their respective schools received commitment certificates at the Foundation's second annual prize-giving ceremony at its headquarters, Clifton Settlement, Corentyne, Berbice on Monday.
Founder of the Non-Governmental Organisation (NGO), Mohabir Mookoorchand Persaud told Guyana Times that the children were selected by the schools from a list of persons living under difficult circumstances. Many of these students, he noted, have touching stories.
"Many of them came from single parents. We have stories where some persons are surviving off of a pension… living with a grandparent."
An emotional Persaud said because of the extremities of the various cases he has put together a team which was tasked with going through the applications before the 74 students were selected.
Initially, all of the secondary schools in Region Six were contacted to provide possible candidates for the gift certificates.
He said in excess of $2 million would be made available to pay the examination fees regardless of the number of subjects each student intended to write.
The MMP Foundation For Excellence was established two years ago with the main aim of assisting those who were willing to do well at their studies, but could not do so owing to financial constraints.
The Foundation has been instrumental in shaping the lives of children from day one of its existence. In the first year, the Foundation paid for 15 children to write CSEC.
The Foundation's first beneficiary, Mahendra Phagwah, secured 13 subjects and is now employed at Metro Office and Computer Supplies and is also a young entrepreneur.
Addressing the children, teachers, and some of their parents, Persaud said 2017 could have been considered a success. This year, 40 children were assisted with full tuition from MMP Foundation For Excellence.
"We are pleased to announce that some of the Region's top performers came through the MMP Foundation. After that excellent performance, I have decided to award a full tertiary scholarship to the top student of Region Six, Darshanie Jagubir. She will receive four-year tuition along with a $60,000 voucher annually. She is presently pursuing a degree in biology at the University of Guyana, Tain Campus," Persaud noted.
MMP Foundation was established to ensure that children with the zest and determination are given the necessary support and push to do their best. Meanwhile, apart from paying for students to write their exams, the Foundation continues to distribute stationery supplies to children.
"This year, it has distributed 30 hampers consisting of bags and school materials worth over $800,000. In addition, the Internet and travelling expenses will be paid to another 20 children for the next year."
Speaking at the ceremony, former Regional Education Officer (REO) Shafian Bhajan said it was a historic event.
She explained that in the past in Region Six many students have not been able to realise their true potential owing to difficult circumstances. "Education is a ticket out of poverty," Bhajan said.
She noted that in Guyana much of the money from Government does not reach those who need it most to have a positive impact.
"What the MMP Foundation has been doing is to do it on a personal level so that it goes directly to those who need it the most." Bhajan also noted that statistics have shown that many students still experience difficulty attending school and as such, she challenged others to join the effort to help children shape their future.
Meanwhile, awards were also given to the MMP graduating class of 2017-2018. The students were also rewarded with $4000 for each Grade One they obtained. The Region's top student, Jagubir, gained 16 subjects, including 15 Grade Ones. The schools that benefitted from the initiative are Canje Secondary, the Berbice High School, New Amsterdam Multilateral Secondary, JC Chandisingh Secondary, Port Mourant Secondary, Corentyne Comprehensive, Winifred Gaskin Secondary, Berbice Educational Institute, Skeldon High School, Line Path Secondary and Tagore Memorial High.