Mohamed Muntaz Ali is the newest Attorney-at-Law admitted to the Guyana Bar. This former student of the Campbellville Secondary School is advising others to pursue their academic goals even if the school they attended is not among the top performers in Guyana.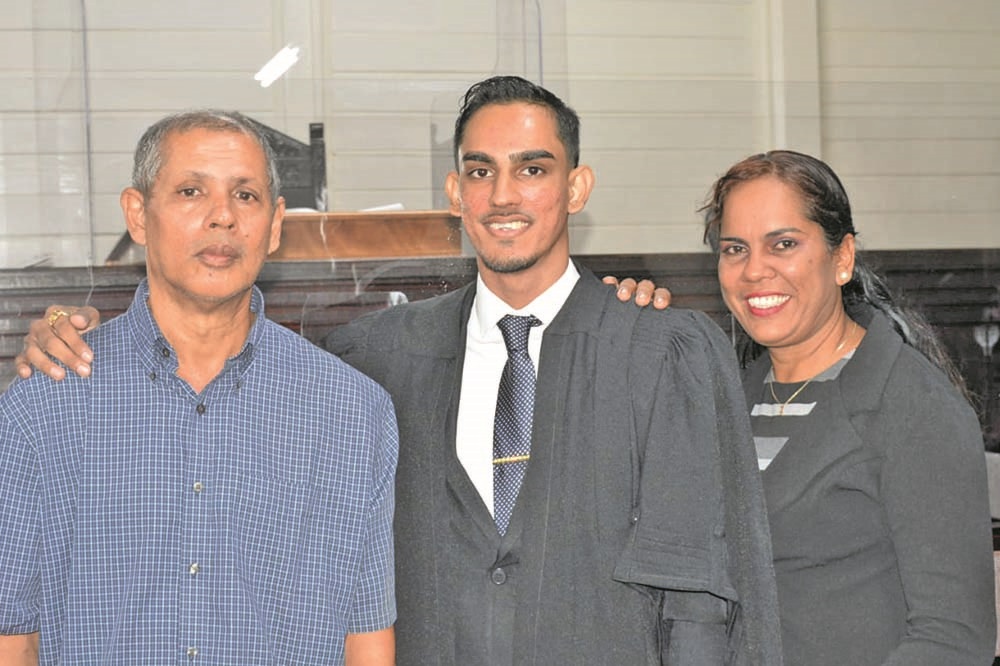 Ali told Guyana Times, "My journey should be an inspiration to other youths. I did not attend a top secondary school. I started my journey at the New Campbellville Secondary School, but I did not allow that to lower me in the pursuit of my academic goals."
He related that his parents, relatives, and close friends were the driving forces behind his success.
His petition was presented on Tuesday by his aunt, Attorney-at-Law Jamela Ali before acting Chief Justice Roxane George at the High Court in Demerara. Ali graduated from the Hugh Wooding Law School (HWLS) in September 2020 with his Legal Education Certificate (LEC).
Born on December 18, 1998, he is the second of three children born to Mohamed Abdul Aziz Ali and Sunita Durgah. His father is retired, while his mother is the Headmistress at the St Margaret's Primary School. Ali's sister, Janet Adeba Ali was admitted to the Bar in 2019.
In presenting the petition on behalf of her nephew, Jamela Ali told the court that it was a very proud moment for his parents.
"Mohamed Muntaz comes from a family of lawyers from his paternal side. There are at least four generations of lawyers – grandfather, aunt, uncle, sister and cousins. His late grandfather [after whom he was named] was an Attorney-at-Law who was admitted to the Bar in 1954, and who was a former lecturer at the HWLS," she noted.
Ali is also the nephew of Director of Public Prosecutions (DPP), Shalimar Ali-Hack, SC. He graduated from the New Campbellville Secondary School in 2014 with passes in nine subjects at the Caribbean Secondary Education Certificate (CSEC) examinations.
Apart from being named valedictorian, he was the best graduating student in Mathematics; English A; History; Electronic Document Preparation and Management (EDPM); Visual Arts; Integrated Science and Social Studies. He had also received a certificate of recognition for outstanding performance in Mathematics in Grades 9 and 10.
This young man commenced his tertiary education in 2014 at the University of Guyana's Department of Sociology where he completed the one-year pre-law programme which he passed with distinction. He began reading for his Bachelors of Law Degree that same year, and graduated in 2018, having passed with credit.
That same year, in pursuit of his LEC, he migrated to Trinidad to attend the HWLS. In addition to obtaining his certificate to practise law, he was also awarded a certificate of completion having successfully completed the Energy Law Specialist Clinic programme at the law school.
During his in-service training while attending HWLS, he was attached to his Aunt Jamela's law chambers. She has been practising at the Civil Bar for over 28 years and has served as the President of the Mediation Institute of Guyana.
Ali also completed the HWLS clinical education programme at the Legal Aid Clinic.
"…You have done exceedingly well academically. I can only add and hope that you will communicate, make the right decisions, always be filled with gratitude as you embark on your chosen career to the land of success and achievements. As you pursue your legal career, you will find those qualities will serve you well, together with hard work, research of legal issues, and respect to all," Jamela Ali said in lending a word of advice to her nephew.
According to her, during his stint at her chambers, he displayed discipline, punctuality and towering dedication to his duties as well as excellent legal drafting capability. This young lawyer enjoys painting and drawing, playing tennis, swimming, yoga, cricket, draughts, chess, listening to music, and watching movies.