By Brandon Corlette
Imagine if Shimron Hetmyer and Darren Bravo were present on this England tour. Would Jermaine Blackwood be in the starting XI?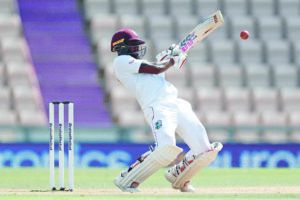 For Blackwood, his numbers are staggering against England and he has played some impactful innings against the Englishmen. Including his match-winning 95 on Sunday last, Blackwood scored 605 runs at an average of 55, including one century and three half-centuries, against a bowling line-up he described as powerful.
When Guyana Times Sport posted a question to Blackwood in his virtual conference on Tuesday, concerning his confidence had Hetmyer and Bravo been included and if he would have played, Blackwood had this to say: "I am a confident guy; either I am playing or not, and I will stick with the team a 100 per cent."
Blackwood rated his innings of 95 as one of the best he has ever played. "It is right up there for sure, having played international cricket for almost three years now and to come back and perform like that. I was disappointed in the way I got out even though I was not eyeing that century; I was just worried to get the team across the line. When I got out, I was disappointed, but I was pleased with my innings," Blackwood said while responding to a question from this publication.
After scoring 768 runs in the 2020 Regional Four-Day tournament and topping the runs chart at an average of 51.2, including a high score of 248, as Captain Jason Holder indicated on Sunday, Blackwood had made a strong claim for a place and even if Bravo and Hetmyer were on tour, Blackwood had already made a statement with the runs he had scored.
Reflecting on his strong regional performances, Blackwood said he told himself that his aim was to bat as long as possible. "I was not thinking of scoring but to bat as long as possible. Once I am there for sure, I will score," Blackwood posited.
The 28-year-old, who has been working with batting coach Toby Radford by sending him clips of his preparation and training, looks a new and improved batsman.
With all the talk of Blackwood being more mature in his approach, he failed to show that in the first innings when he chipped one to mid-off. Despite being dismissed in similar fashion, Blackwood's second innings of 95 shut down all the noise. The critical Sir Andy Roberts also had his say. Blackwood believes that everyone is entitled to their opinion, but he blocks all the noise.
Blackwood, who also scored the most runs in regional cricket back in 2013-14 – 611, noted that regional cricket has been improving and it has rewarded him with growth in his batting. Following Blackwood's journey from back in the Caribbean, he has been working with his friend and mentor Andre Russell. Blackwood noted that this important innings of 95 has been a testimony to the hard work.
He noted that he has been in communication to Russell, who was proud and sad simultaneously because he missed out on a well-deserved century. Blackwood's numbers in regional cricket and against England stand out. It is not the end; it is just the beginning of Blackwood's return to the international stage and it has begun in grand style.