Bounty Paper Towels 2nd Div…
Old Fort tightened their grip on the Bounty Paper Towels men's second division league on Saturday last, with a convincing 7-3 victory over Saints U19s.
The Sequel meanwhile maintained their second position in the pool standings with a similarly dominating win over Senior Saints by 7-2.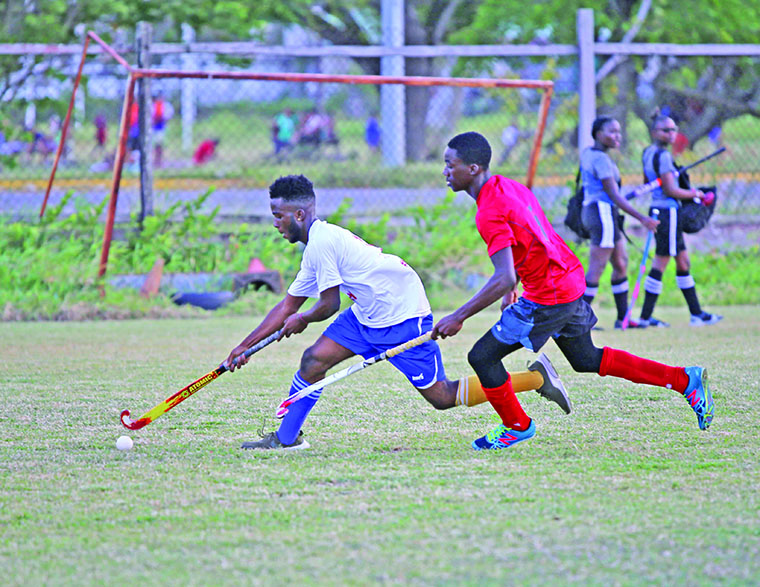 Saints U19 seemed destined to upset the equilibrium of the tournament when the speedy Troy Hodge managed to break the nil-all deadlock of their math against pool leaders Old Fort in the 7th minute. A defensive scramble by Old Fort resulted in a penalty stroke for Saints U19s which Hodge easily converted. National striker Jael Gaskin evened the score for Old Fort seven minutes later and the teams scored a goal each, through Gaskin for Old Fort and Shakeem Fausette for Saints, just before the half to make the halftime score 2-2.
Saints u19 would take the lead for the third time of the match with a Hilmar Chester strike but by now the confident Old Fort had received their full complement of players and took control of the game from thereon. Jason Clarke drew the scores even in the 32nd minute of the 40-minute match through a penalty corner then Gaskin scored twice more to take his total to 4. Rafal Robertson and Warren Williams buried the Saints u19s further with a goal each to give Old Fort the 7-3 win.
The Sequel never seemed troubled by the opposition of Saints Seniors and were off to a flying start through two early goals from Medroy Scotland who was the outstanding finisher of the day. Veteran defender Robert Fernandes entered the game for Saints and brought a considerable measure of stability to the team and sparked their first goal through Kevin Edwards. A long pass from Fernandes evaded the GCC deep defence and found the breaking Edwards who gave Saints its opening goal in the 14th minute.
GHB president Philip Fernandes resumed the momentum for GCC however with a solo effort and solid finish which was followed by a hattrick of goals from former national Devin Hooper before Fernandes added a final goal high in the Saints net to give GCC its seventh goal of the match. Yonnick Peters of Saints managed a penalty corner late in the second half but proved to be far from troubling for the Sequel who finished with a 7-2 victory.
As the first round of matches near completion, Old Fort find themselves unbeaten and in top position of the pool with 12 points with the Sequel in second place with 9 points. Saints U19s have 6 points, Bounty GCC – 3, Hikers Cadets – 0 and Senior Saints -0.
In the ladies' competition Pizza Hut GCC find themselves in the familiar top spot with 4 points and Bingo Spartans with 3 points while the other three teams, Old Fort, Saints and Woodpecker Hikers have a pint each.
Matches continue every weekend at Saints ground until May 20.