Opposition Member of Parliament, Irfaan Ali on Wednesday called out Government for what he said was a violation of the Fiscal Management and Accountability Act with the commencement of works in the property valuation project ahead of the official start which is scheduled for next year.
However, Communities Minister Ronald Bulkan in his defence claimed it was a pilot project that was started this year.
The Administration is moving full steam ahead with its property valuations for 2019 with a $320 million contract which was signed with the Municipal Property Assessments Corporation of Ontario (MPAC) and AxiLogic Inc in October to bring property taxes up to date. Though the allocation was detailed in the 2019 Budget estimates, Ali questioned why the project was allowed to begin without the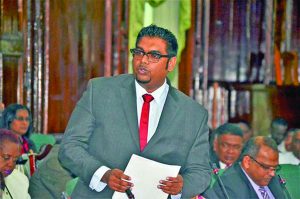 requisite approval from the National Assembly.
"Would the honourable Minister agree that any resources spent before 2019 is in contravention of the Fiscal Management and Accountability Act, Section 4 because grants and loans are part of public monies," Ali questioned.
Bulkan responded "the Cabinet has approved a contract in the sum of $320 million to allow for this service. What I have said is that a pilot has started in 2018 and the project itself is expected to start in 2019. Ali retorted that he was very happy to learn that Cabinet was still approving contracts. He continued asking if any money was spent outside of the $330 million contract that was signed.
"What we are addressing now is expenditures for 2019 Budget; this project is expected to be executed in full in 2019," Bulkan outlined.
Ali, a former Housing Minister under the previous Administration highlighted that it was a report of Government media agency DPI (Department of Public Information) that reflected that works commenced last year but Minister Bulkan advised his colleagues that all of what is reported is not necessarily correct as he outlined that he is only dealing with provisions for 2019.
"It is not in general what is being reported has a high degree of accuracy. There is a contract entered into between the Ministry and Municipal Property Assessments Corporation of Ontario that will allow for mass property valuations over a 12-18-month period," Bulkan explained.
As the clash continued, Ali again clarified is question, asking the Minister if any contract was signed prior to the provision in the 2019 Budget, committing any of the $320 million by the Communities Ministry. However, Bulkan said he was not too sure about "committing" but said the contract provided a "contract sum", noting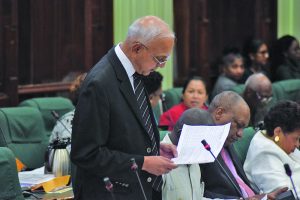 that any commitments would flow from the 2019 Budget.
"We have arrived at the destination; once the contract has been signed and there is a contract figure in that contract, there is a commitment of public resources and this is violation of the FMAA," Ali quipped, accusing the Minister of financial breaches.
Despite this, Minister Bulkan held out that he does not share this view with Ali. Bulkan said in the past, the property valuation project would allow for capacity building for the modernisation of property assessment. The Minister had outlined that the improvements to this system would further advance Local Government organs which are guaranteed in the Constitution of Guyana. The PPP/C has been saying for months that it will not increase rates and taxes in any of the areas it won at the 2018 Local Government Elections. However, at present, less than half of home owners in some local authority areas are paying the existing rates and taxes.
Last year, Finance Minister Winston Jordan explained that efforts were being made to ensure the stability and self-sufficiency of the Local Democratic Organs (LDOs), to reduce dependence on subventions from central Government. Once completed, this will mean that property taxes will increase.