…in call for SWAT rank to be charged for murder
Residents of Dartmouth village, Region Two (Pomeroon-Supenaam), on Tuesday blocked a section of the Essequibo Coast main road by burning tyres and other debris in protest of the charges laid against a member of the Special Weapons And Tactics (SWAT) Unit.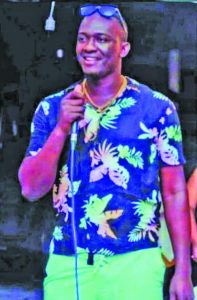 SWAT member Sherwin Peters was on Friday last charged for manslaughter and released on $1 million bail. However, the protesters on Tuesday were calling for him to be charged for murder.
Boston was shot by the 32-year-old Police Constable on September 15, 2021, during an anti-crime operation.
At the time of the shooting, Police ranks were conducting an anti-crime operation in Division Two (Essequibo Coast) and entered Boston's house to conduct a search for prohibited and illegal items. However, during the search, there was a confrontation between Boston and the rank, resulting in him being shot to his upper left arm.
"We need more justice this cannot done suh … Look that man that killed bat get one million dollar bail…that is total nonsense … He deserves to rot in jail for taking our brother's life. If proper justice cannot be served we won't stop protesting and block up this road," one of the protesters told this publication.
Meanwhile, Regional Commander Denise Griffith on Tuesday said that at about 04:00h residents of Dartmouth village began blocking the village bridge with old tyres and debris and set them alight.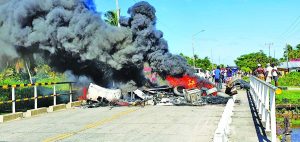 "A Police patrol vehicle arrived shortly thereafter but were unable to control the behaviours of residents…they continue to pack more debris into the fire," Commander Griffith said.
Nevertheless, Commander Griffith stated that ranks will remain on the ground until normalcy is restored.
However, the blocking of the roadway left hundreds stranded since vehicular traffic was brought to a halt. This is similar to the roadblock in September 2021 when a 29-year-old man was shot.
On Tuesday, persons were forced to disembark public transportation and take a different vehicle and route to pass the area where the roadblock and protest are currently ongoing.
Speaking with the newspaper, Ravin Lall said that he usually delivers groceries to persons living within Anna Regina to Charity but had his work disrupted as a result of the protest.
"I usually deliver goods to persons living up this side here… I got an order today (Tuesday) to deliver ration for a family living in New Road and this roadblock has affect me because I cannot go over the bridge to do delivery," Lall said.
Police and ranks from the Guyana Fire Service have been stationed at the scene. (G14)