…call for permanent solution
Paddy bug infestation in Mahaica, Region Five (Mahaica-Berbice), continues to affect rice farmers – who are now complaining that the situation is seemingly worse.
Speaking with Guyana Times on Friday, the farmers indicated that a permanent solution is needed to eradicate this challenge. Presently, they are still using insecticides every week to spray the insects in order to keep crops alive. However, the bugs are not killed by these chemicals. Instead, they migrate to other crops.
"What we are doing is trying to prevent these bugs from living on the crops because the sprays that we use don't kill them. It does just keep them away. Right now, we need something that will work long-term cause spraying every week is costly, very costly," he explained.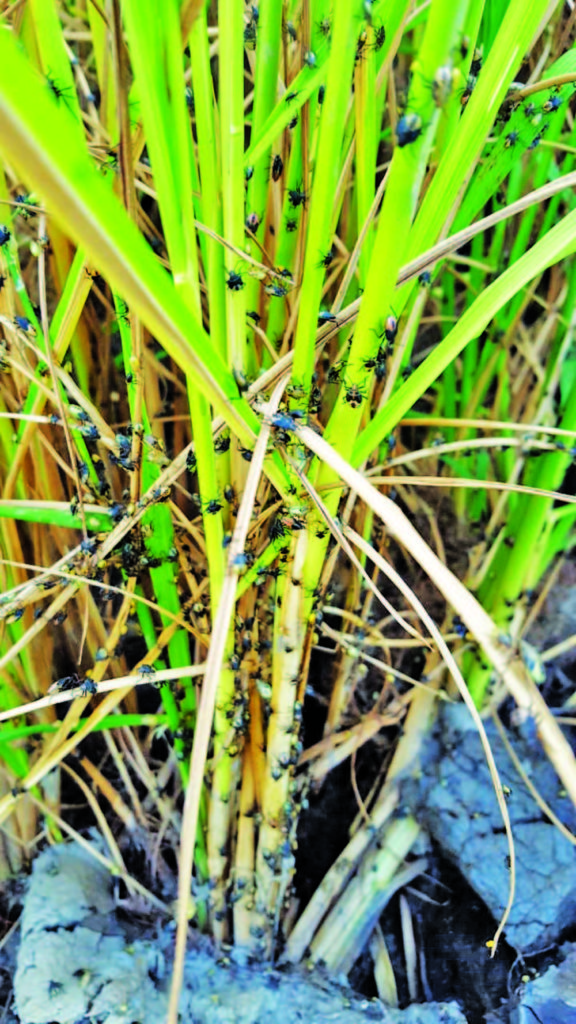 The affected communities range from Branch Road in Lower Mahaicony to Burma, Champagne village, Tiger Ranch, Weldaad, Washington, Golden Fleece on the West Coast of Berbice.
As a result of the widespread issue, the profits generated from each acre of rice continue to dwindle. Another farmer indicated that approximately $40,000 is spent on pesticides, with additional costs to hire persons to carry out the spraying exercise. For this, they are calling on authorities to produce a solution that will eradicate the pests permanently or provide resources to cushion their expenses.
Last September, farmers harvesting paddy in Region Six (East Berbice-Corentyne) said damage due to paddy were recorded at 10 per cent at that time. Collectively, rice farmers had spent in excess of $1.5 billion in 2019 to control the bugs.
Throughout a crop, farmers would normally be able to control all other pest and diseases which may confront them but when it comes to paddy bugs, it is described as one of the major players as far as pests are concerned.
Back then, President of the Guyana Rice Producers Association (RPA) Leaka Rambrich was quoted as saying, "We can't say if the chemical is poor or if the spraying that is being done is not the right spraying or the bug is dying and others are migrating. All these things we need to have a study of. I am lobbying for the Government to do a paddy bug programme, pattern it with the pink mealybug programme that we had. They need to put that into the budget; a $200 million programme and you will have a comprehensive study of the bug."
Prior to 2015, the Government had budgeted $90 million for a paddy bug programme. However, the programme was scrapped with the change of Government.
There are about nine different species of the paddy bug. There is no current data to indicate which one is affecting farmers the most. In addition, there is no data on where the bugs go when the crop season is halted.