– discusses good governance & democracy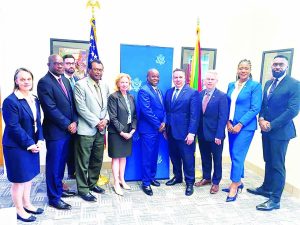 The parliamentary Opposition has met with two visiting United States (US) officials from the Office of the US Vice President and from the State Department, during which good governance and democracy were among the issues discussed.
In a statement, it was explained that Opposition Leader Aubrey Norton led a delegation of Opposition Members of Parliament (MPs) to meet Joe Salazar, Special Advisor to the Vice President for the Western Hemisphere, and Michael Taylor, Deputy Director of the State Department's Office of Caribbean Affairs WHA/CAR, on Monday.
The meeting, which took place on Monday, was hosted by US Ambassador to Guyana Sarah-Ann Lynch at the US Embassy in Georgetown. Also in attendance were Shadow Minister of Foreign Affairs Amanza Walton Desir, Opposition Chief Whip Christopher Jones, Leader of the Alliance for Change Khemraj Ramjattan, and MP David Patterson.
"The parties discussed areas of mutual interest and concern including regional security, food and international cooperation within the Americas, the critical role of good governance in functioning democracies, and the importance of a well-managed and functioning legislature," the Opposition said in a statement.
On Monday, President Dr Irfaan Ali, accompanied by a high-level Cabinet team, had also met with the visiting US officials at State House, where energy and food security and the transformative Low Carbon Development Strategy (LCDS) were among the topics on the agenda.
It was explained that during the meeting, the People's Progressive Party/Civic (PPP/C) Government's commitment to democracy was among the topics discussed. Meanwhile, a follow-up meeting is expected at a subsequent date, to discuss PACC 2030 – an initiative launched by Vice President Harris last year to improve cooperation between the US and Caribbean countries.
The US delegation also included US Ambassador to Guyana, Sarah-Ann Lynch; Deputy Chief of Mission, Adrienne Galanek and Chief of the Political and Economic Department of the US Embassy, Brian Hall.
In June 2022, Vice President Harris launched PACC 2030 and since then the United States has been working with Caribbean nations to develop wide-ranging, long-term energy security and climate resilience solutions.