A courtesy call on Minister of Culture, Youth and Sport, Charles Ramson Jr., by the newly elected Guyana Olympic Association (GOA) Executive Committee has resulted in a commitment from both sides to collaborate for the betterment of sports in Guyana.
The new GOA Executive Committee was elected on Tuesday evening at Olympic House, Liliendaal, and is now headed by Guyana Table Tennis Association (GTTA) President Godfrey Munroe.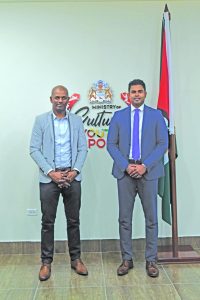 "What's important, as far as I'm concerned, is that we identify our objectives and that we also identify what is the plan to do well," Sport Minister Charles Ramson Jr. told the GOA Executive Committee at the meeting, which also included National Sports Commission (NSC) Chairman Kashif Muhammad.
The Sport Minister went on to emphasise the need for both parties to work together in order to foster a better environment for Guyanese athletes and sport in general. Ramson explained, "You don't want when teams are travelling, representing Guyana, the Ministry of Culture, Youth and Sport or the National Sport Commission that they are unaware, because things can happen while they are away, and where does the [requests for information] direct to? It directs to the Government, it directs to the NSC, and many times we're blindsided," he explained.
"We're blindsided if there isn't that cohesive flow of information, and knowing where are the loopholes and opportunities to collaborate and support. So, it's important," Ramson highlighted.
As such, the Sport Minister went on to give a charge to the fresh committee, stating: "For the GOA, what's important is that you're not just functioning in the capacity as leaders and managers. That's not just what you're looking to achieve, because when you are finished with your tenure, you must be able to say what you have achieved."
It is safe to say Ramson Jr's charge was well received around the table, indicated by nodding heads.
New GOA President, Godfrey Munroe, endorsed the Minister's call for collaboration.
"I think it's truly the dawn of a new era. The road map that you've outlined in terms of the alignment and objectives of the Government and Sports Commission is in alignment with the Olympic Committee. I believe all the international federations also, there's similar synergies and partnerships, relying on collective engagement," Munroe shared.
The newly elected President added, "I believe this Committee is quite committed to the task of propelling sport in a new direction."
While Munroe was voted President at GOA election on Tuesday evening, Steve Ninvalle, Cristy Campbell and Philip Fernandes were elected to vice-presidents thereof. Vidushi Persaud-McKinnon was elected Secretary General, while Emilia Ramdhani was elected Assistant Secretary general. Garfield Wiltshire was unopposed as Treasurer, while Mike Singh was elected as Assistant Treasurer.