As part of the Guyana Police Force's strategy, a Police Youth group was on Monday launched at Micobie Village in Region Eight (Potaro– Siparuni). It is the first group of its kind, and it has a total of 60 youths, who are between the ages of 5 and 17 years old.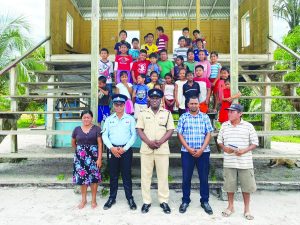 Micobie is a village that was established in the 19th century, and is located on the right back of the Potaro River, near the Village of Tumatumari. It is some 60 minutes' travel away from the town of Mahdia using a motor vehicle.
The group was established by the Officer-in-Charge of Sub-Region #8 (Mahdia), Assistant Superintendent Oswald Pitt, along with Community Relations Officer and Subordinate Officer-in-Charge of Regional Police Division # 8 Headquarters, Sergeant Asif Hakim, and the Village's Deputy Toshao, Isaac Williams.
During the launch, several topics were covered by ASP Pitt, such as domestic violence, sexual abuse, drug abuse, and teenage pregnancy, among others.
Pitt, however, charged the youths to stay in school and do their best, while assuring them that the Guyana Police Force would continue to support the community, so that the youths could remain occupied in a meaningful way.
The officer also underscored the need for the community to partner with the Force in an effort to curb and prevent criminal activities.
Meanwhile, Community Relations Officer Hakim spoke with the youths about the need for togetherness and working closely with each other, and also stressed the need for the community not to see the Force as an enemy, but as a friend.
Additionally, with the launch of the youth group, the village will now see active participation in various activities, such as pageants, educational competitions, sports competitions, educational classes, and site visits, among others.