…weeks after no-confidence motion successfully passed
The certification of the no-confidence vote has signalled that all post-December 21, 2018 Government business should be limited to essential operations.
However, President David Granger on January 23, 2019 gave his assent to the Amended Nurses and Midwives Bill, making it law. On January 4, 2019, the National Assembly, without the presence of Opposition Members of Parliament (MPs), met and passed the Bill.
This was about two weeks after the no-confidence motion was successfully passed and certified by the Speaker of the National Assembly.
Government had a majority of 33 over the Opposition's 32 seats, but was defeated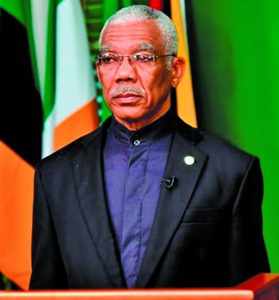 after former Alliance For Change (AFC) member Charrandas Persaud broke ranks and made a conscience vote in favour of the motion.
Meanwhile, the legality of the Bill's passage and subsequent presidential assent, as with other post-December 21 initiatives, is likely to garner much contention, since some legal minds opined that Government should have a limited role.
But President Granger has openly stated that he would remain President and that "there is no such thing as a caretaker Government".
Some legal minds are of the view that Guyana could be on the path to a constitutional crisis. One such person is People's Progressive Party/Civic (PPP/C) Member of Parliament and former Attorney General Anil Nandlall, who said on Wednesday that Government's delaying measures in calling elections could affect Guyana's stance on a number of national and international matters, since an "illegitimate Government" would not be appropriate to advocate the country's cause on an international stage.
Nevertheless, via the President's assent to the Amended Nurses and Midwives legislation, provision has been made to allow nurses and midwives the opportunity to study and specialise in various areas. The previous Nurses' Bill, which governed the training and employment of nurses and midwives, had been enacted since 1942. As reported, nurses would have the opportunity to study and upgrade their careers through tertiary education and other studies.
The law provides for a Nurses and Midwives Council to be established. The law sought to make provision for the registration and regulation of nurses, midwives and nursing assistants. It outlines that anyone in the nursing profession found guilty of professional misconduct can face a fine of up to $100,000.
Another penalty relates to practising without a valid licence, wherein the Bill says that any nurse or midwife guilty of this offence shall be liable, on summary conviction, to a fine of $500,000 and 12 months' imprisonment.