Workers attached to the High Court were on Tuesday seen working judiciously to restore the historic Queen Victoria statue, which was the subject of recent vandalism. When Guyana Times visited the monument located in the compound of the Supreme Court, which was renamed the Victoria Law Courts under the former Head of State's rule, a red liquid substance (suspected to be paint) had been thrown over the marble statue.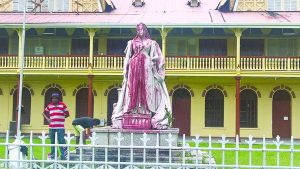 The statue was sculpted by Henry Richard Hope-Pinker and commissioned in 1887. However, it was not until 1894 that it was unveiled outside the law courts in Georgetown. After Guyana gained Independence in 1966 and became a Cooperative Republic in 1970, the statue of Victoria was removed to the Botanical Gardens. However, in 1990, the statue was restored and re-erected in front of the Supreme Court of Judicature in Georgetown.
Many have condemned the act of vandalism, but some anti-colonial activists are calling for the statue to be removed.
Efforts to contact senior ranks in A Division (Georgetown-East Bank Demerara) were unsuccessful, but Guyana Times learnt than a probe will soon be underway to determine the authors of the act. The vandalism to the statue is illegal under the laws of Guyana. According to Chapter 8:02 of the Summary Jurisdiction (Offences) Act, anyone who unlawfully or maliciously destroys or damages a statue, bust or monument or its surrounding railing or fence is liable to a fine between $10,000 and $20,000 or imprisonment for 12 months.