By Lakhram Bhagirat
Steven Nobrega is perhaps one of Guyana's most talented young racers on the circuit. Feeling as though he was born to race, Steven never took for granted the amount of hard work and preparation that comes with the sport.
He pushed and pushed even harder to ensure that he is always race ready and his hard work is what propelled him to the top of his sport several times.
The Sunday Times recently caught up with the 25-year-old who shared his journey from growing up in Region 10 (Upper Demerara-Berbice) to the tracks at South Dakota Circuit.
Steven was born in Linden but spent the first six years of his at Moblissa – a settlement just off the Linden-Soesdyke Highway. He would later move to Georgetown where he started his primary education at St Gabriel's Primary School and finished his secondary schooling at Reyaz Business Institute.
Racing is one sport Steven has always been around. Ever since he was a small boy, his father would take him to every race meet at the South Dakota Circuit which fuelled his love for the sport. He grew up watching racers like Steven Vieira, Kevin Graham and others rule the track. He dreamed of one day doing the same things those men were doing as well as competing against them.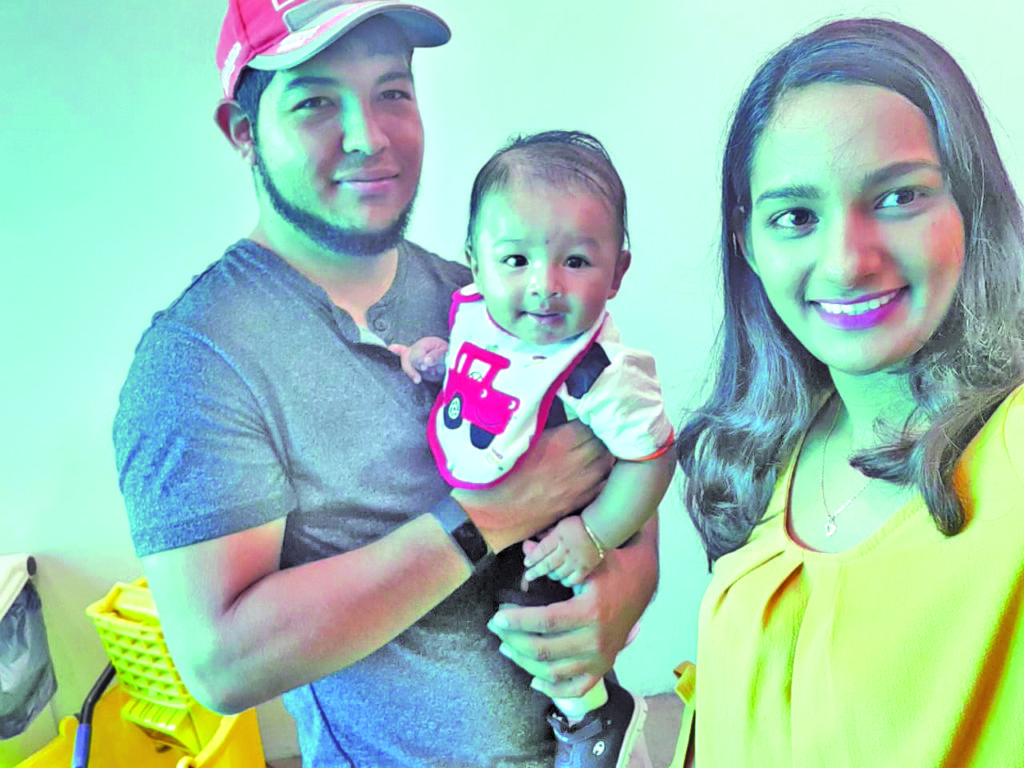 "When I was actually like five years old, my brother used to put me on a little choppy and they would get me riding all over on it. To this day I literally remember sitting on the bike and being unable to touch the ground. A choppy is so small and like every time I see one now, I would remember, vividly, that I couldn't touch the ground and I would have to like jump on the side and ride," he said.
Steven's grandfather, his brother and uncles were all racing enthusiasts as well as racers in their own right so for him racing is more than just a sport. It is a way of connecting with his family.
"Racing means a lot to me. For me racing is in my blood," he told me.
When Steven was in secondary school, his friends would ride motorcycles and being a part of the group meant he would join in every so often. Being on a bike felt like home for him and when he was about 16 years old, he received a bike from Harold Hopkinson – the man responsible for sponsoring him for his entire career.
Hopkinson bought Steven a Yamaha YZ125 and introduced him to the world of competitive racing. He saw in the young man the talent to make it to the top of the sport and ensured that he had the resources to excel.
"He bought Yamaha YZ125 for me which I raced for a few years and won a lot of races with. So, from bikes, I basically moved to go-kart racing. I raced go-karts and he also sponsored me my first go-kart. So basically, from the start of my racing career, he has been sponsoring me to date and I can tell you it's quite satisfactory and I know he is happy because we have had a lot of trophies."
Steven's career is one that sets him apart from the others and to date he has been winning consistently whenever he competes. In 2019 Steven won the Senior Go-Kart Championships and placed second in the 4-stroke championship in 2018. Those are just a part of his lengthy track record.
However, his relatively short career has not been without challenges as well. When Steven first started in the racing world he did not immediately shoot to the top. He was nowhere close to being a star in the field for the first year and a half. He recalled not stepping onto a podium during the first phase of his career and trying not to let this affect his optimism of one day racing to the top.
In 2017, the young man broke his ankle at the South Dakota circuit and that injury put him out of the sport for almost a year.
"I was unable to ride for a lengthy duration of time and then once I was comfortable enough to go back, I went back and I started to race. I think after like two months after getting back on the bike there was a race in Ogle. I raced there and I got I think it's two seconds and a third place."
Ensuring that he was fit for racing remained his priority and in 2018 he returned to the place of his birth to compete at Linden's first Dirt Bike Championships. There, according to him, he had one of the best experiences of his racing life.
"I actually went and won all 7 of the races so that was one of the most standout moments on the dirt. Then in 2019 the South Dakota also had the 125cc Lightweight Championship and that was the first time for me racing back at the circuit since I would have broken my ankle. It was a really good experience. I mean, the bike was perfect and I actually brought second in the first race, I won the second race and I got second again in the third race. All the races were basically nail-biting finishes, it was very close and was really competitive so that was one of the highs that I really, that really stuck out to me," Nobrega related.
Though racing is seen, to the normal eyes, as a sport that does not require a lot of physical strength, it is quite the opposite. A racer needs to be physically fit in order to properly handle their vehicle and in this case, it is Steven's bike and go-kart.
Speaking about how he prepares for the racing season, Steven said he is always in the gym leading up to the commencement of the season and during the season. He does take downtime to just unwind as well. Additionally, the burden of expectation placed on Steven by fans and supporters is what drives the racer mentally to keep him in shape on competition days.
"Once you racing, you have to be physically fit. I mean, to me, being a competitor, the competition is very high and once you go there and start to race and start to win, then the expectations are very high… I try my best to go to the gym, eat properly and stay hydrated. So, when you're racing, you're not affected by being dehydrated or you don't have the stamina to go 15-20 minutes in a race."
However, the coronavirus pandemic has put a stop to all racing activities in Guyana and while it is disappointing for Steven, he understands the reasoning behind the measures. In order to stay occupied during this time, the father of one rides whenever it is possible in addition to his day job as a site supervisor with Secure Innovation and Concept Inc.
He and Hopkinson recently brought in the first 125tc Husqvarna to Guyana but because of the pandemic, they are yet to race it.
When asked what advice he would have for a young racer, Steven said "You have to like what you doing. So first of all, you have to get into it for the love of it. You can't just see a friend doing it and you want to do it. You have to have a passion for what you do and but stay focused. I didn't give up in the first phase and once you start to get competitive not giving up comes naturally. It's something that comes in you. Once you're up there, you don't go down back easily unless you're injured, you've been away for a long while, and younger ones come up. But my main advice is don't give up, stick to what you like, do what you like, don't give up, keep pushing, keep training, and you will get there you'll reach on top." (Photos provided by Steven Nobrega)