The Ramdhani siblings, Narayan and Priyanna, on Sunday last bagged bronze medals for their efforts at the second 2019/2020 tournament of the Alberta Colleges Athletic Conference (ACAC), hosted at the Kings University in Edmonton, Alberta, Canada.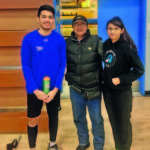 Playing for the Kings University, Narayan Ramdhani copped two bronze medals after finishing third in both the men's singles and men's doubles tournaments.
Playing in the men's singles quarterfinal match, in which he was seeded #2, Narayan overcame Nait's John Li 21-16, 22-20, but his luck changed when he conceded a loss to Nait's Raymond Kim 21-18, 21-17 in the semifinal round.
However, he bounced back in the third-place playoffs to pull off a 21-12, 21-16 win over Smit Patel of Nait College.
In the men's doubles tournament, Narayan and his partner defeated Rylan Head and Noah Jeffery of Olds College 21-15, 21-10 in the quarterfinal round, but lost in the semis to King's Alex Fung and Raymond Kim 21-15, 21-10.
He and his partner then brushed aside Concordia's Tyson Tsen and Braxton Wong 21-17, 21-15 in the third-place playoff to secure another bronze medal.
His younger sibling, Priyannna Ramdhani, playing for Olds College, finished third in the women's singles.
Seeded #3, Priyanna Ramdhani got her competition off to a positive start with a bye in the first round, then overpowered Nait's Kaitlyn Gee in two easy sets 21-4, 21-7 in the quarterfinal.
However, her game was not as strong in the semis, and she lost to Concordia's Johnna Rymes 21-9, 21-4.
Priyanna had a better outing in the third-place playoffs, wherein she defeated Cecilia Wolski of King's 21-11, 21-13 for her bronze medal.
Despite the challenge posed by the minus 25 degrees Celsius temperature outside, the Ramdhani siblings reportedly fared well in the competition.