Residents of Bath Settlement who had their roofs torn off by the recent storm on Monday received zinc sheets from the Civil Defence Commission (CDC) with more assistance has been promised by the CDC.
The storm on Friday evening night ripped through sections of Planation Hope and Experiment also caused massive destruction to utility poles.
In addition, zinc sheets for 18 homes were ripped off and two buildings were blown to the ground.
Following the relief drive on Monday, Regional Chairman Vickchand Ramphal congratulated the government on its quick response noting that after the CDC did an assessment twenty families were in need of building material.
"The Ministries of Local Government and Public Service and in general the Government of Guyana acted to ensure that the necessary support is being given. Also, the Office of the Prime Minister got fully engaged and as such, we would have received the necessary approval and assistance."
Ramphal pointed out that families would have received hampers which were made available through the CDC. Food hampers and cleaning hampers were given to fifty families who were affected in the two communities.
"I noticed that we have persons here who we would have not engaged before. We are working with a list of twenty families. The other persons we will engage you to see how we can assist," the Regional Chairman told residents who had gathered at the distribution center where the zinc sheets were being uplifted from.
Meanwhile, Captain Lakshmar Persaud of the CDC explained that it is hoped that there will be more engagements with the community so that the affected people will be able to get back to a state of normalcy as soon as possible.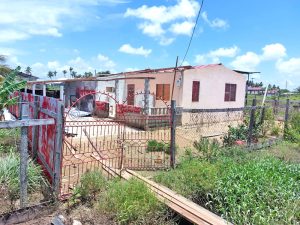 "Today we will deal specifically with the zinc sheets so that those persons who have not done any repairs can ensure that you can get that process moving forward and for those that would have already completed their repairs, at least you would get your material and you can decide how you will move forward with that."
The Regional administration also assisted with transporting the material from the distribution center to each family's house. Ramphal also promise to provide labour for those who were in need of labour to get their houses fixed.
The residents who suffered from the storm have expressed gratitude to the CDC for their intervention.