The Regional Democratic Council (RDC) of Region Five (Mahaica-Berbice) has condemned racially inciting calls made by members of the Working People's Alliance at a recent public meeting.
The RDC has now joined the growing list of individuals, groups and organisations that have criticised the statements that could cause public violence.
During Thursday's sitting of the RDC, Region Five Chairman Vickchand Ramphal received the support of the Council in condemning a recent call by Working People's Alliance (WPA) member Tacuma Ogunseye at a public meeting at Buxton, East Coast Demerara, for the use of guns against the Government.
The utterances have already faced widespread condemnation from a wide cross-section of civil society, including some Opposition Members such as Geeta Chandan-Edmond, Ganesh Mahipaul, Daniel Seeram and Georgetown Mayor Ubraj Narine.
However, Opposition Leader Aubrey Norton defended the remarks, saying that the politician's right to free speech must be respected.
But when RDC Councillor Muhammed Ishmael sought to defend the WPA member's remarks during Thursday's meeting, the Region Five Administration remained committed to unity.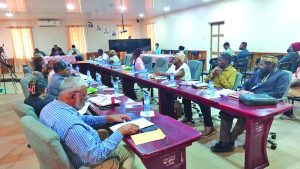 Ishmael was forced to withdraw his statement that there are two ways to deal with a Government; it is through the ballot or the barrel of a gun.
Lead Councillor of the Opposition's side at the RDC, Emmerson Benjamin declared that this is the time to unite, as he spoke of development taking place in communities that are not known to support the current Administration – a view that was also shared by Ishmael.
Former RDC Chairman, Bindrabhan Bisnauth, who is now a councillor, also took the opportunity to make a call for condemnation of Ogunseye's public statement.
"As Councillor Benjamin said, we should all be leaders. A member of the WPA made an erroneous statement calling for violence in Guyana and trying to use our brothers and sisters as pawns. In no uncertain terms, we as leaders in Region Five should condemn that statement with one voice."
Meanwhile, Ramphal said people should be calling for unity and not violence, making mention that all are aware of the issue Bisnauth referred to.
"When we speak of violence and what is happening in our society, we must reflect on the statements that are being made by some leaders in this country. Let me say that from the level of the Regional Democratic Council of Region Five that we fully condemn those statements that were made inciting violence and with an intention to bring disunity among our people. We must remain united for Guyana to move forward in peace and unity," he said.
Vice Chairman Ryan Pieters called for leaders to lead by example and as responsible people. He pointed out that we are living in a period when politicians, who he referred to as responsible people, are publicly speaking violence and hate. "We need to confront these issues. We cannot support responsible people generating hate and violence among us. Our kids are learning from us and absorbing what is happening in our society and around them. We have to lead by example as adults and responsible people."
During the WPA meeting held in Buxton, East Coast Demerara on March 9, Ogunseye had made incendiary remarks.
Despite the mounting criticism over his remarks, Ogunseye is being backed by his party – the WPA, which has defended him.
Moreover, he is also receiving support from the APNU Opposition with APNU/PNCR Leader Aubrey Norton saying Ogunseye's right to "free speech must be respected". The Opposition Leader further described the utterances from the WPA camp as just "poor choice of words". (G4)