The Texas State University students who are in Guyana on a Study Abroad Programme in Respiratory Care, took the opportunity to share with the media their experience over the past two days.
More specifically, the team of five respiratory care students, five mass communications students, and two respiratory therapists were attached to the Georgetown Public Hospital (GHPC) practicing what they have learnt in respiratory care classes. The team has been working in the Accident and Emergency Unit, the Emergency Intensive Care Unit and the Asthma and Spirometry unit of the GPHC.
Each student expressed their appreciation for being afforded the opportunity to interface with patients and staff of the GPHC, making reference to their reception into the work environment.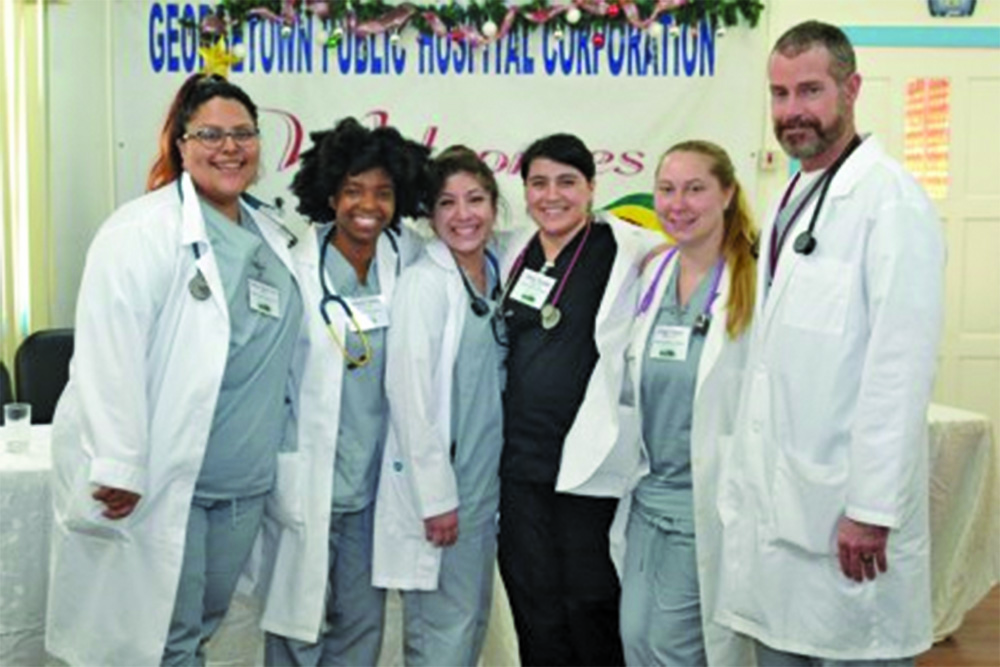 Heading the team in Guyana, Professor Sharon Armstead, Respiratory Therapist and Clinical Education Professor at the Texas State University said, with this team's visit to Guyana, they hope to spark enough interest to have the Government move towards implementing such a programme in the country.
"We feel we can add to this health care system as respiratory therapists, our goal is for Guyana to see the value of the respiratory profession and in the not too distant future, develop a respiratory care course at UG (University of Guyana)," Professor Armstead explained.
The Texas State University at which Professor Armstead lectures, offers a four-year degree programme in respiratory care. Students undertaking this course will learn general practice, with two years to focus on specialising in Pulmonary Care. After that, 1000 clinical hours are dedicated to the career path of respiratory care.
One student, Shane Rodgers said that he developed an interest for the programme after working at a fire department and was exposed to training in respiratory care while another, Jaclyn Brewer said she is living with Asthma and "knows what it is like to not be able to breathe."
All the students on the team hope to make a significant impact, not only in giving back to Guyana but in saving lives when they return home. The team is expected to travel to Linden on January 8, where they will conduct asthma screening and the MacKenzie High School and they will also be attached to the Linden Hospital Complex for a period.
Meanwhile, as their work in Guyana is expected to contribute in many forms to the local respiratory care offered, Professor Armstead has indicated that spirometry tools will continually be donated to Guyana through the Bridges Global Medical Mission.
The Professor is quoted by the Department of Public Information as saying, "You can't diagnose asthma and COPD unless you have the tools… we were able to purchase two of the diagnostic tools, the spirometers and we plan to donate that to Guyana… those are the kind of tools (that are needed) and we plan to donate more".
The mass communications students continue to be a part of the documenting and detailing story of the first respiratory care study abroad programme in Guyana.