Oil and gas lecture
Drawing reference to the Gulf of Mexico oil spill of 2010, the largest marine oil spill in history, caused by an April 20, 2010 explosion and other major catastrophic incidents, a safety expert from Trinidad has warned that if safety does not take prominence in Guyana's oil and gas operations, it could lead to similar incidents that could have a damaging effect on the country.
Director and Principal Consultant for inCrEdible Safety Services Limited, Edward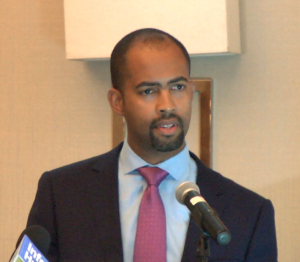 Brathwaite, was addressing the 5th public lecture hosted by the Guyana Oil and Gas Association Incorporated (GOGA) in collaboration with El Dorado Offshore at the Marriott Hotel on Tuesday evening, which focused on the cultural impact on safety in oil and gas, when he made those remarks.
In most instances, safety professionals are viewed by oil and gas workers as a "pain in the neck," but Brathwaite said while this may be true, safety procedures should never go unnoticed. Referring to the 2010 oil spill again, he said, "All of the equipment and processes were available to avoid such an outcome. What made the difference is the quality of the conversation that took place with human beings on board this facility, to the peril of 15 men and countless others who were impacted by this incident."
The safety expert emphasised that undertaking the job the right way requires all workers in the oil and gas sector to do it the safe way each and every time. "And having their needs met over and above procedures that are outlined is not something that is easily tolerated or is not something that usually ends well," he lamented, explaining that these workers have to always remember the consequences.
But equally important, Brathwaite who has extensive experience working in the energy sector, particularly in the Caribbean, said that those in the local oil and gas sector have to be able to craft an environment where workers can see what is happening and what they need to do to identify the hazards and be prepared to take the appropriate actions now, in order to obtain a safe outcome later.
In emphasising that safety is good business for every oil operation, Brathwaite told those in attendance at the lecture that specific focus must be placed on ensuring that there is constant dialogue among all levels of the workforce and that prominence must be placed on enabling quality conversations.
"The conversation has to be meaningful, it has to be real, people have to be listening and acting in good faith. Your culture will be a starting point. You have to know where you are before you can figure out where you are going," he explained while noting that most Caribbean countries may have a culture of taking shortcuts to doing something but the outcome is not always favourable.
"We have to take time to prepare to work together. It's very easy to say let's start a company and we will provide this service
We will go and get the financing. That is the easy part. The soft human interaction part is the real difficulty and if we don't get that right we are going to struggle all the way.
Whether located on or offshore, drilling rigs and operations pose inherent risks to workers, who must cope with extremely harsh and demanding environmental conditions.
At sea, risks include storms and inclement weather, humidity, strong winds, tides and sun exposure, as well as relative isolation for extended periods of time. On land, workers may experience excessive heat and humidity or, at the opposite extreme, cold temperatures and strong winds.
In both locations, long shifts, arduous labour, wet, slippery work surfaces and uneven terrain may create potentially hazardous conditions under foot that may result in falls and injuries. In addition, constant exposure to excessive noise is fatiguing and working with heavy equipment daily may lead to safety lapses that result in both minor and major threats to life safety and health.
To avoid or minimise potential accidents, injuries and fatalities on oil rigs, proper safety training, safety audits and drills, and a range of personal protective equipment is usually required. Well-managed oil companies worldwide have proven over the years that unexpected accidents, injuries and loss of life can be significantly reduced through the implementation of current safety best practices, site engineering modifications, improved safety equipment, and worker training programmes.