After many years of serving in the local basketball fraternity, stalwart Michael Singh has been touted to take the reins of the Guyana Amateur Basketball Federation from outgoing President Nigel Hinds.
With the GABF's Annual General Meeting closely approaching, many in the fraternity have speculated about the new leadership that the Federation is expected to see.
Outgoing President Hinds, after registering many successes in the premier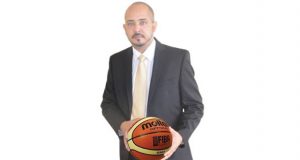 position, announced that 2018 would be his last year as President.
The announcement came at a Road to Mecca media engagement, at which Hinds also promised that with the assistance of Singh, the tournament would carry on when he was no longer President even if it was to be hosted privately. This announcement gave the first inkling that Singh would be the one to take up the mantle from Hinds.
However, the position of President from 2019 onwards was still left open to a number of potential leaders.
As the time to the deciding day drew closer, another development was revealed. According to a recent release from the Federation, former Vice President Singh was leading a 'slate' of potential executives.
While Singh has been listed on the slate in the position of President, Alex Graham, Lawrence Simon and Kenrick Thomas have been slotted in as Vice President, Patrick Haynes as General Secretary, Gavin Singh as Treasurer and Andrew Hercules as Technical Coordinator.
Affiliate Members of the Federation are eligible to vote; these include basketball associations from Bartica, Berbice, Georgetown, Linden and Guyana Basketball Officials Council, Women's Basketball Association, Georgetown Masters and GT Pioneers. Each affiliate will be afforded two votes for each of the elected positions.
Having a well-oiled machine is critical for the GABF since the Federation is preparing to send a team to the FIBA Americas qualifying tournament. This tournament will lead the way for the FIBA Americas Championship in 2021. The Federation will host its Annual General Meeting on Saturday, December 26 from 13:00h.