Employees of the Guyana Sugar Corporation (GuySuCo) attached to Skeldon Estate, in Berbice protested Skeldon's administrative offices to vent frustrations over the non-adherence of practices they enjoyed when they worked at the Albion Estate in the past.
According to the Guyana Agricultural and General Workers Union (GAWU), the problems stemmed from GuySuCo's cancellation of Skeldon's first crop for 2017. As such, the workers were required to undertake cane cutting tasks at Albion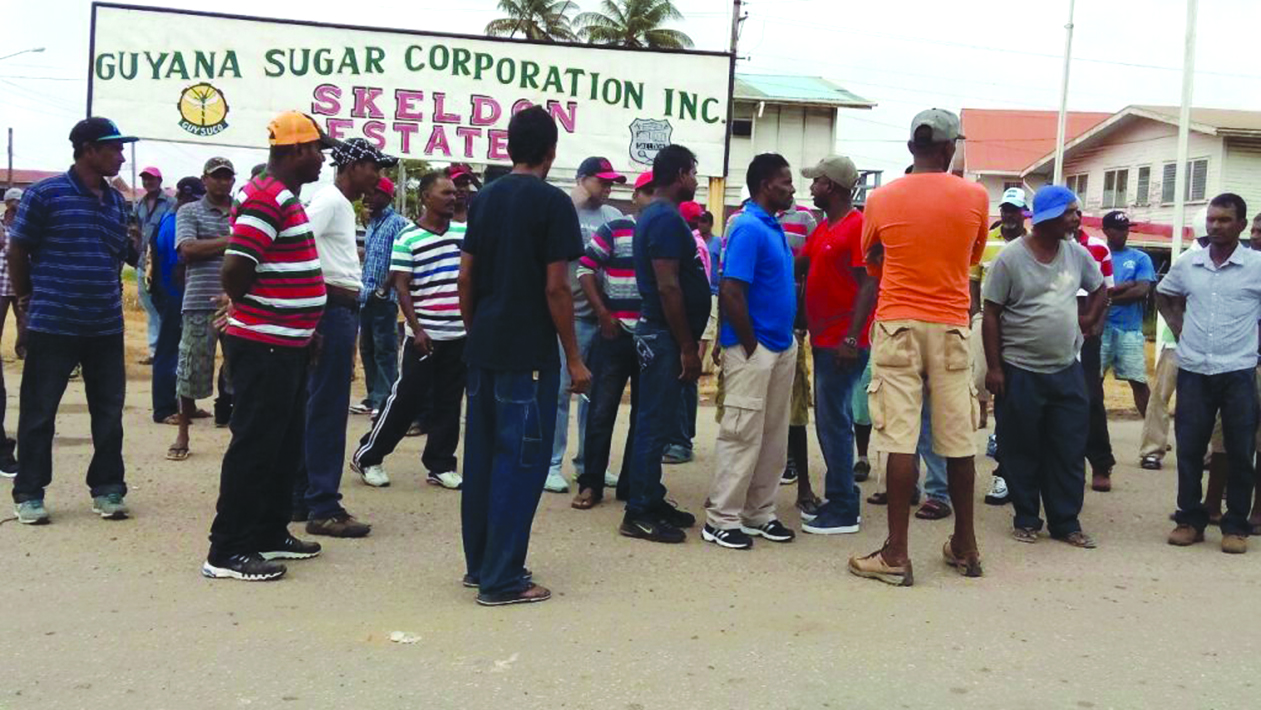 Estate.
The employees on Tuesday said that GuySuCo is seeking to impose its practices on the Skeldon workers, noting that the practices in question have been in place for many years and were formulated through engagements between shop stewards and the Estate's management.
It is expected that the contentious issues will be a matter for discussion at a meeting scheduled today between GAWU and GuySuCo at the corporation's Head Office to address the workers' issues. While specific details on the worker's concerns were not fully disclosed, GAWU noted that it is hopeful that the engagement would be meaningful and that it would address the many concerns of the workers.
Last month, GuySuCo indicated that mechanical failures forced the cancellation of this year's first crop at Skeldon. It was announced that the Skeldon factory's co-generation plant was not safe to continue its operations and that the problems could be rectified only until the final months of this year. On the backdrop of the suspension of the first crop, GuySuCo indicated that workers would have been deployed elsewhere during the period that sugar operations at Skeldon had ceased.
At Wales Estate
It was only this Monday that several sugar workers attached to the Wales Estate continued their protests over the non-payment of severance packages. Those sugar workers are rejecting moves to Uitvlugt on the West Coast of Demerara and they reiterated calls for President David Granger and Prime Minister Moses Nagamootoo to intervene on their behalf.
When Government confirmed the end of sugar operations at Wales Estate last year, it was explained that cost was the main factor for the entity's closure. It is expected that Government will keep only three of the country's sugar estates operational and under its remit, while Skeldon will soon be privatized.