– What I can't control I leave alone, he says
Emmanuel Archibald's 8-metre leap at the Athletics Association of Guyana's Valentine's Day meet (last Sunday) has been deemed to have surpassed that of every long-jumper in the World for 2021.
Australia's Darcy Roper currently heads the World Athletics Leaderboard for Senior Men's Long Jump in 2021 with a distance of 7.96m. This means that Emmanuel Archibald's 8.10m jump at the meet may just be the longest in the world thus far.
The current top three are completed by Australia's Christopher Mitrevski and New Zealand's Shay Veitch, who leaped to 7.92m and 7.63m respectively, both of which Archibald surpassed.
While World Athletics are yet to update their site, Archibald, who hails from Linden, is set on making the 8.22m Tokyo Summer Olympics' qualifying mark, with the Olympics being set for July-August this year.
Speaking with media operatives on Sunday last, Archibald shared a bit about his plans for the near future, which include returning to school in Jamaica.
"Planning to head back to Jamaica by March, because track meets are there. I already started school online. My scholarship is okay right now, but funding is not," Archibald said.
The 26-year-old also divulged that although he is in need of help for accommodation and coaching fees, he has not received much assistance. Nonetheless, he is focused on the positives.
"Right now, they aren't providing anything! Nothing! Other than my scholarship from the Public Service, I ain't getting anything from the Ministry of Sport," the athlete has disclosed.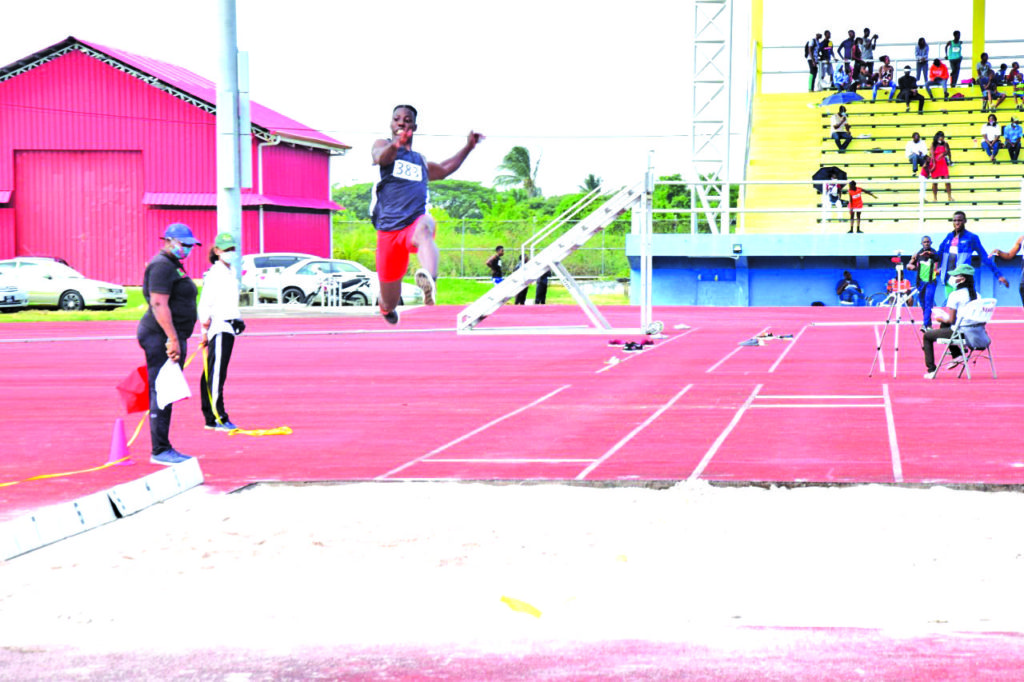 "It ain't really affect me, because right now my mindset is control: what I can control (I control), and what I can't, (I) leave that alone," he said.
Overall, Archibald had an exceptional day on Sunday. He clocked 10.21s in the 100m Open event, which also is an impressive time on the World Athletics leaderboard. Though he has not yet reached the Olympic mark for the sprint event, Archibald is committed to bringing home a medal, in spite of the year off.
"The year off never affected me; it made me better, because I got to rest up, fix my injuries, and get better throughout the last 11 months," the athlete revealed.
"Other than the Olympics, nothing. That's the main goal right now, just to qualify and win a medal for Guyana," an optimistic Archibald has declared.
Emmanuel Archibald is currently the holder of the country's long jump record after an 8.12m jump in Jamaica in May, 2109. (Jemima Holmes)