By Akeem Greene
Be it the 50-metre dash or the more gruelling 100-metre length, National Swimmer Leon Seaton Jnr considers himself the "Energiser bunny "in the pool.
Although just 13, Seaton Jr has already scripted an eminent name for himself regionally with the fast times he has produced, shattering records on his way to Gold.
At the XXIII Goodwill Swim Meet held last month at the National Aquatic Centre at Liliendaal, ECD, Seaton Jr competed in thirteen (13) events, consisting of 10 individual races and 3 relays. He won 9 Gold medals, 2 Silver medals and 1 Bronze medal, for a total of 12 medals.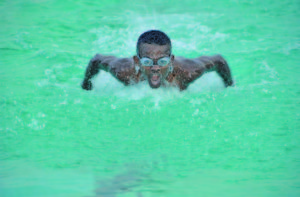 Against a field of swimmers from Trinidad and Tobago, Barbados, St Lucia, Suriname and the Bahamas, he etched his name in the record books on five occasions.
He lowered the 50m Butterfly time from 29.75s to 29.20s; 50m Backstroke from 31.82s to 31.72; 50m Freestyle from 26.62 to 26.18s; 100m Freestyle from 58.80s to 58.19s; and 200m Freestyle from 2:13.03s to 2:10.37s.
"I rate myself at 100%. I excelled, pushed my game to the top, and I came out on top", he said in an interview with Guyana Times Sport.
But achieving such feats takes a lot of hard work and determination over time; it does not happen overnight.
"I was making sure I exercised at home, ran in the park, ran in the neighbourhood. I kept active heading into the meet. I felt I was going to do good when I achieved my first record in the 100m freestyle," Seaton disclosed.
For the aspiring medical doctor, balancing life in the pool and commitment to the books is no easy task.
"For me, I have been in this sport for a while [since age five], and the routine has become normal to be me. For someone now beginning, it would be challenging. In the mornings when you wake at five, you have to reach the pool at 05:30h, then go to school. You then come back to pool, go home and study, and then it continues all over again," he revealed.
Some may wonder why this St Rose's High School student puts his body through the rigours. "That feeling of swimming is exciting. Every time I hit the water, every time I step up on the blocks, there is this feeling that just flows through my mind and body; and when I hit the water, I release and then I just swim very fast," he disclosed.
Though he wishes to have a taste of other sporting disciplines, such as table tennis, athletics and karate, swimming will always be close to his heart, given that he has set his sights on some illustrious goals.
"Five years. I see myself at the Olympic Games, of course! Along that way, I will have to be going to development meets to achieve my goals. I have set myself very high standards, and will be working hard to achieve (them)" he declared.
The second of three siblings, Seaton credits his success to the motivation supplied by his parents, Leon Seaton Snr and Rhonda Seaton, along with his peers at Silver Shark Aquatic Swim Club; and to current coach, Haresh Bhagwan.
Who will be able to stop Seaton in his rise to the top? He believes there is no comparable local talent in his age group.
"No one in my age (group) can beat me in Guyana. There is Zachery Taylor from Barbados who has been trying to beat me since 2013. I don't know much about him, but he is very dedicated and hardworking," Seaton disclosed.
His self-confidence flows from his knowledge of what is needed to develop the sport. "I would say they should put more learning programmes and teach more persons how to swim; and when they do that, they can then become competitive and learn to swim at my speed," Seaton said.
Locked on his goals, Seaton can possibly bring joy to a nation which has not received much world recognition from the sport of swimming.