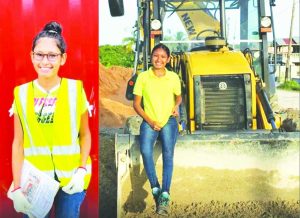 Alicia Duggin has always been intrigued by the heavy-duty equipment operator profession, which both her father and older brother hold.
After completing her secondary education only a few weeks earlier, her fascination prompted her to investigate the Heavy-Duty Equipment Operation (HDEO) course offered by the Board of Industrial Training.
She made what she believed to be a "no-brainer" decision, which became clear when she started the gruelling programme and quickly rose to the top student rank among the boys.
"I knew this would be my profession the moment I sat in that 236D skid steer loader and cranked that key."
"The device had ignited a spark within me and made me willing to get my hands filthy, if necessary," the young woman expressed.
Duggin recalled the challenges she faced during the programme, including harsh remarks from her male colleagues who told her that she was better off at home doing chores.
However, Duggin said she used those criticisms to fuel her drive to prove them wrong and fulfil her dream.
And she did precisely that by graduating first in her class.
The easy part of the programme, according to Diggin, was finally finishing the course. Soon after, she began looking for work.
"I applied at numerous companies and received responses from all of them, but I chose Avinash Contracting and Scrap Metal Inc because it would be advantageous to me in the long-term," she explained.
This, however, is not the conclusion of her story; rather, it is only the beginning. The young lady thanked the Board of Industrial Training for allowing her the opportunity to realise a childhood aspiration.